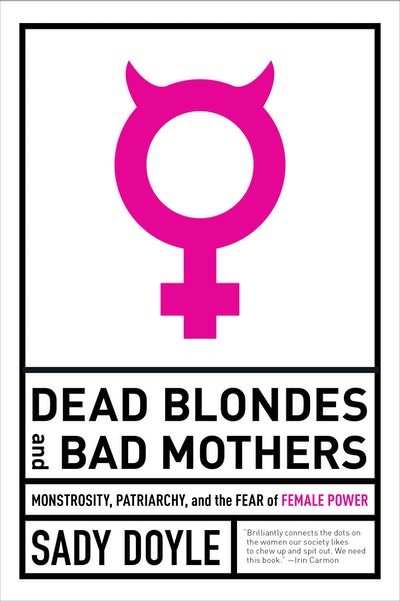 Published:

20 August 2019

ISBN:

9781612197920

Imprint:

Melville House

Format:

Paperback

Pages:

352

RRP:

$27.99
Dead Blondes and Bad Mothers
Monstrosity, Patriarchy, and the Fear of Female Power
---
---
The Female Monster is alive and well in the pop-cultural imagination. What does she tell us about ourselves and how we live today?
Kirkus Reviews Best Book of the Year
This "witty, engaging analysis" of female monsters in pop culture offers "provocative and incisive" commentary on society's fear of female rage and power (Soraya Chemaly, author of Rage Becomes Her)
Women have always been seen as monsters. Men from Aristotle to Freud have insisted that women are freakish creatures, capable of immense destruction.
Maybe they are. And maybe that's a good thing.
Sady Doyle, hailed as "smart, funny and fearless" by the Boston Globe, takes readers on a tour of the female dark side, from the biblical Lilith to Dracula's Lucy Westenra, from the T-Rex in Jurassic Park to the teen witches of The Craft. She illuminates the women who have shaped our nightmares: Serial killer Ed Gein's "domineering" mother Augusta; exorcism casualty Anneliese Michel, who starved herself to death to quell her demons; author Mary Shelley, who dreamed her dead child back to life.
These monsters embody patriarchal fear of women, and illustrate the violence with which men enforce traditionally feminine roles. They also speak to the primal threat of a woman who takes back her power. In a dark and dangerous world, Dead Blondes and Bad Mothers asks women to look to monsters for the ferocity we all need to survive.
"Some people take a scalpel to the heart of media culture; Sady Doyle brings a bone saw, a melon baller, and a machete." —Andi Zeisler, author of We Were Feminists Once
Published:

20 August 2019

ISBN:

9781612197920

Imprint:

Melville House

Format:

Paperback

Pages:

352

RRP:

$27.99