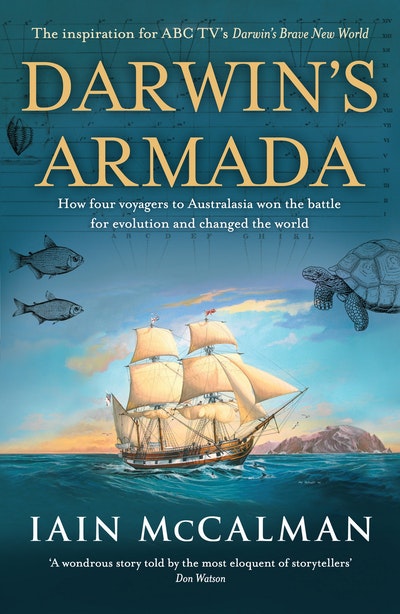 Published:

21 January 2009

ISBN:

9781742285375

Imprint:

Penguin eBooks

Format:

EBook

Pages:

416
Darwin's Armada
---
---
How Four Voyages to Australasia Won the Battle for Evolution and Changed the World

Charles Darwin, HMS Beagle, 1831-36 Sent to Cambridge to join the clergy, the young Darwin emerged with a passion for naturalism and an invitation to sail on a naval survey vessel to South America, New Zealand and Australia.  That journey would change his life, and the course of modern science.
Joseph Hooker, HMS Erebus, 1839-43 Inspired by Darwin's Voyage of the Beagle, assistant-surgeon Hooker undertook his own dramatic voyage of exploration, from the Cook Islands to the Antarctic via the high society of Hobart.  His botanical research added critical evidence to Darwin's developing ideas on evolution, and he became Darwin's closest ally.
Thomas Huxley, HMS Rattlesnake, 1846-50 'Darwin's Bulldog' would become evolution's most effective champion against the clergy (coining the term agnostic').  As a brilliant, ascerbic young man, Huxley was determined to make his name through discoveries in marine biology in the Southern Hemisphere – but his most improbable discovery was that in Sydney he fell in love.
Alfred Wallace, the Amazon and South-East Asia, 1848-66 The least celebrated but perhaps the most brilliant of the four.  During his many years in remote jungles as a professional specimen collector, the largely self-educated Wallace arrived independently at a theory of evolution by natural selection.  He sent his idea to Darwin, precipitating a dramatic moral crisis and the writing of On the Origin of Species.
Darwin's Armanda is both a gripping adventure story and a brilliantly enlightening work of history, for the first time portraying the Darwinian revolution as a collective enterprise forged in Australasia.  These four remarkable men did what one alone could not – combed the world for evidence of evolution by natural selection, and then fought tirelessly in the social and intellectual battle that followed its famous publication 150 years ago.
Together they changed the world.
Published:

21 January 2009

ISBN:

9781742285375

Imprint:

Penguin eBooks

Format:

EBook

Pages:

416