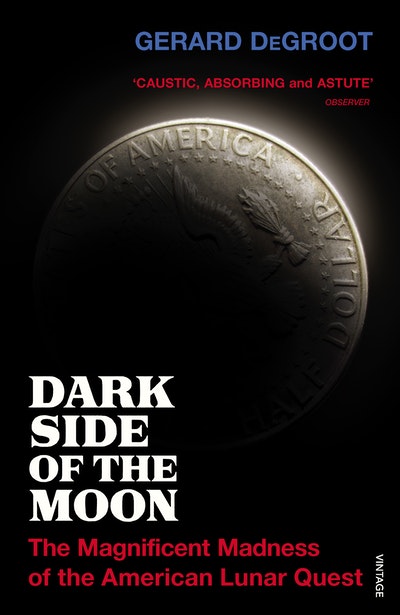 Published:

1 April 2008

ISBN:

9781844138319

Imprint:

Vintage

Format:

Paperback

Pages:

336

RRP:

$32.99
Dark Side of the Moon
The Magnificent Madness of the American Lunar Quest
---
---
Gripping, packed with anecdotes, brilliantly researched and beautifully written, the story of how a nation went mad in its quest to put a man on the moon.
For a very brief moment during the 1960s, America was moonstruck. Every boy dreamed of being an astronaut; every girl dreamed of marrying one. But despite the best efforts of a generation of scientists, the almost foolhardy heroics of the astronauts, and 35 billion dollars, the moon turned out to be a place of 'magnificent desolation', to use Buzz Aldrin's words.
In Dark Side of the Moon, Gerard DeGroot reveals how NASA cashed in on the Americans' thirst for heroes in an age of discontent and became obsessed with putting a man on the moon, in the process limiting what could be acheived in space. Drawing on meticulous archival research, DeGroot cuts through the propaganda peddled by the Eisenhower, Kennedy and Johnson administrations - not to mention the NASA spin doctors - and exposes the truth behind one of the most revered myths of American history.
Published:

1 April 2008

ISBN:

9781844138319

Imprint:

Vintage

Format:

Paperback

Pages:

336

RRP:

$32.99
Praise for Dark Side of the Moon
Annoyingly thorough and readable

Giles Whittell, The Times
DeGroot gets off to a terrific start: his prose is punchy, his contentions startling, his indignation palpable

John Preston, Sunday Telegraph
It can't be denied that beyond the dingy politicking, lunatic number-crunching and slide-rule stuff, there was something grand about the US space programme. DeGroot's achievement is to have preserved that, even as he exposes the dark side

Brian Morton, Sunday Herald
An elegant contribution to the history of the space age. For space nuts who think Apollo is all about heroism, it should be compulsory reading

Andrew Smith, Sunday Times
DeGroot goes far beyond his precise academic remit in bringing us this caustic, absorbing and suttee exploration of how and why the dream died

Euan Ferguson, Observer
DeGroot has a good ear for anecdotes and his narrative is highly amusing.

John Michell, Spectator
An enjoyably written argument

Sinclair McKay, Daily Telegraph
A gripping account

Adam Forrest, The Herald
DeGroot tells the story of the American lunar mission with verve and elegance

Richard Aldous, Irish Times
Fascinating, gossipy and occasionally hilarious

Jeffrey Taylor, Express
A canny academic's take on the real reason behind America's obsession with beating the Soviets to the Moon, and the absurdity of what they found

Esquire