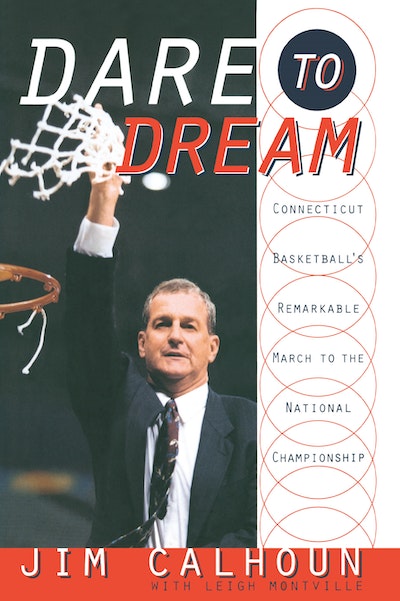 Published:

28 May 2019

ISBN:

9780767929547

Imprint:

Crown

Format:

Paperback

Pages:

240

RRP:

$24.99
Dare to Dream
Connecticut Basketball's Remarkable March to the National Championship
---
---
The charismatic basketball coach at the University of Connecticut reveals the victorious secrets behind his team's breathtaking journey to the 1999 NCAA Division I National Championship--and along the way shares his philosophy for winning.
It was one of those games that basketball fans will talk about for years. Here was the seemingly unbeatable Duke Blue Devils pitted against the first-time finalist Connecticut Huskies, and at stake was the ultimate crown: the National Championship. On that unforgettable night in St. Petersburg, Jim Calhoun and his amazing team wrote a new chapter in the storied history of the UConn Huskies program, putting the perfect exclamation point on a season to remember.
But behind the high drama that fateful night in Florida lay an even more fascinating tale of one man's rise to college basketball preeminence. In Dare to Dream, the Huskies iron-willed coach, Jim Calhoun, for the first time shares his own story about his inspirational family and the tragedies they faced; about his early successful years at Northeastern, where he began to compile the first half of a unique double (he's the only coach to have won at least 250 games at two different Division I schools); and about his assumption of ultimate responsibility at the sleeping giant in Storrs, Connecticut.
Along the way, Jim Calhoun paints fascinating portraits of the players who have done battle for him, and of the unsung heroes behind the scenes whose hard work and dedication to Connecticut basketball have kept the dream alive. In just thirteen years, Jim Calhoun has turned the Huskies into one of the leading basketball programs in the country, and in this moving, funny, and inspiring book, he takes us behind the scenes to show us just how he did it.
Published:

28 May 2019

ISBN:

9780767929547

Imprint:

Crown

Format:

Paperback

Pages:

240

RRP:

$24.99
The crowd roars for Jim Calhoun and the Connecticut Huskies: "The UConn program is a monument to [Jim Calhoun's] vision, persistence, and, most of all, superb technical and motivational coaching ability." --Boston Globe "Jim Calhoun isn't just a good coach or even a very good one, but a great one." --John Feinstein, Washington Post "[Jim Calhoun] turned ordinary UConn into an extraordinary team." --The New York Times