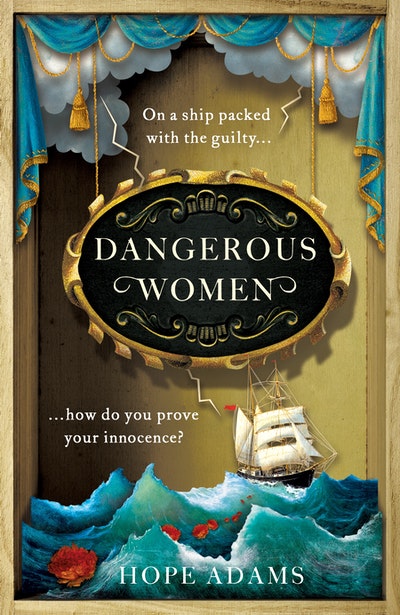 Published:

2 March 2021

ISBN:

9780241411414

Imprint:

Michael Joseph

Format:

Trade Paperback

Pages:

352

RRP:

$32.99
Dangerous Women
The compelling and beautifully written mystery about friendship, secrets and redemption
---
---
---
Inspired by a true story, Dangerous Women is a devastating, deftly spun and thought-provoking tale about female anger, subservience and ultimately, strength
July, 1841
A group of young women sit on the deck of a ship headed to the colonies of Australia, heads bent, busy stitching a beautiful quilt together, sunlight glancing from silver needles, overseen by their young matron Kezia Hayter.
Until a piercing shriek tears the fabric of their small society apart - a woman has been brutally stabbed, her life hanging in the balance.
But this no ordinary ship, the Rajah is transporting female prisoners. Thieves and convicts with crimes too petty to be hanged forced to immigrate to Australia.
Trapped at sea, and on a ship full of convicted criminals, it falls to Kezia to determine which criminal is guilty of murder.
Published:

2 March 2021

ISBN:

9780241411414

Imprint:

Michael Joseph

Format:

Trade Paperback

Pages:

352

RRP:

$32.99
Praise for Dangerous Women
Nerves fray, alliances form, and love blooms in this fast paced, well-written novel. This is a great page-turner!

Mystery and Suspense Magazine
Beautifully written, Hope Adams has woven together an epic sea voyage with an intriguing murder mystery to make an unputdownable read

Katie Fforde
A gorgeous and compelling story with vibrant characters. I was fascinated by the novel's inspiration and the real life story of the Rajah Quilt

Rachel Hore
An intriguing murder-mystery, skilfully written and bursting with colour and life

Lucy Atkins, author of Magpie Lane
A fabulous, page-turning novel that kept me gripped. Bringing together murder, convicts and patchwork quilting - all aboard a ship bound for Australia - it's impossible not to become engaged with these women and their individual plights - especially once everyone becomes a suspect

Jane Harris, author of The Observations
A ship of convict women - all with their secrets - on the way to a new life in a new land, but facing danger all the way - this is a locked room mystery to end all locked room mysteries!

Sophia Bennett, author of The Windsor Knot
Combines historical fiction with tremendously gripping entertainment. Who on a ship of convicted women sailing from London to Tasmania is a murderer?

Amanda Craig, author of The Golden Rule
A historical episode artfully adapted in a tale that offers glimmers of hope for women discarded by society

Kirkus
A must-read for lovers of fearless historical fiction, and an examination of the shocking treatment of women in our not-too distant past

Alma Katsu, author of The Deep
Dazzling. Adams takes the fascination history of a convict ship and brings it to life in a captivating story filled with intrigue and dark secrets. An immensely satisfying tale of guilt, innocent and second chances

Emma Rous, author of The Au Pair
Wonderful, evocative, moving and suspenseful

Marika Cobbold, author of On Hampstead Heath
A vivid, cleverly-crafted mystery that will keep the reader turning the pages

Erica James, bestselling author of Letters from the Past
Transforms an actual 19th-century sea voyage of female convicts into a striking drama. The ship's young matron chooses a group to sew a presentation quilt, but near their destination, someone stabs one of the quilters. Evocative sketches of those on board reveal the realities of poor women's lives - readers will be rewarded

Publisher's Weekly
Dangerous Women is a successful blend of two genres: a historical novel, inspired by real events, and a murder mystery with a great twist at the end. By the time I was halfway through I was completely gripped, and couldn't put it down

Wendy Cope
Well-written, engaging and thoroughly compelling. I love it when forgotten histories are brought to light, and touch the reader so that they immediately want to know more

Elizabeth Chadwick
A very fine novel - and, like the quilt it celebrates, a work of love

Mick Herron
Utterly compelling and as finely wrought as the patchwork quilt that inspired the story

Minette Walters, author of the bestselling The Last Hours
Fascinating. Gives women without one a voice - a storming read

Helena Pielichaty
A compelling, immersive book that deftly weaves its beauty and pathos. I'm still thinking about it

Hilary McKay
A gripping exploration of female solidarity in a time of crisis and claustrophobia. Hope Adams sets the grubby injustices of a misogynistic legal system against the beauty of creating a work of art and, through that art, stitching together an unlikely community

Caroline Lea, author of <i>The Glass Woman</i>
I so enjoyed this. It evokes an era when justice was cruel, but also how the creation of something like a quilt gave hope and substance to existence. A terrific read

Elizabeth Buchan
An enthralling story, inspired by true events

Best
A fabulous book with a fascinating premise. A murder mystery drives the story, but it's the characters who keep you entranced as, in the confined space of a long sea voyage, these feisty inventive women negotiate each other and their new world. I loved it

Dinah Jefferies
A page-turning murder mystery and a richly-drawn tale of women caught up in a male-dominated world, hoping for a better life. Descriptions of the poorer class of women in Victorian England are moving and evocative, the period details terrifically well-researched. I felt I was on that transport ship with those women, facing the storms and living their joys and sorrows

Carol Drinkwater
A secret murder on a convict ship transporting women to Australia in 1841 . . . this is an intriguing story, with its root embedded in facts

Andrew Taylor
Intriguing . . . [Hope Adams] can stitch a great story

Jewish Chronicle
A fine story of suspense, sisterhood and society, reflecting the harshness of women's lives and their desperation to survive in a world that has scant regard for their wellbeing

Daily Mail
In vivid detail, Hope Adams illuminates life in convict quarters on a stinking, storm-soaked ship, and delves into the lives of individual women and the small tragedies that have condemned them to be sent far away, with little hope of return

Jewish Chronicle
This atmospheric narrative excels in its depiction of the relationship between female prisoners - largely petty criminals - and the tragic backstories that have brought them together

Mail on Sunday
A well-paced page-turner illuminating a forgotten story that reminds us how far we have come

Jewish Chronicle
A fascinating prose patchwork of the women's lives, stitched together by a twisting murder mystery. Engrossing and deeply satisfying - over the course of the journey we learn about the desperate lives of these women, many guilty only of petty crimes

The Times
An enthralling narrative . . . lays bare the painful lives of these women, far from their homes and loved ones, and feeling the brutal weight of the law

Northern Life Magazine
Pulls you into the heart of its story, while celebrating redemption, rehabilitation and the good in people. All set to the backdrop of a truly fascinating slice of history

Phase Eight Book Club
Hope Adams has skilfully patched a murder mystery into a historical event . . . Masterful plotting, well-drawn characters, and a plausible balance of despair for what was left behind and optimism for what lies ahead add up to an immensely satisfying read

Guardian
A truly engrossing historical 'locked room' thriller

Essie Fox
A murder mystery with a great twist at the end . . . Gripping

i
Packed with atmosphere . . . a terrific read

Choice Magazine 'Book of the Month'
It's a fantastically exciting story, and a wonderful novel. There is so much more going on, on the Rajah, in this unity of women, than a simple love story

Antonia Honeywell
Historical events and characters are cleverly blended into a thought-provoking tale

Candis
Adams disguises a social-history lesson on women's rights as a gripping period drama and we're here for it

Cosmopolitan
Adams disguises a social-history lesson on women's rights as a gripping period drama

Cosmopolitan