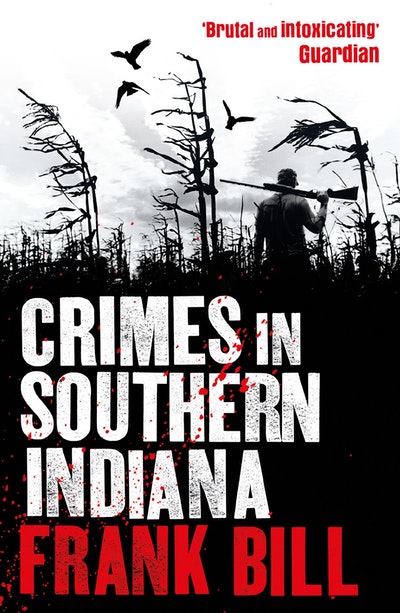 Published:

15 January 2013

ISBN:

9780099558446

Imprint:

Windmill Books

Format:

Paperback

Pages:

288

RRP:

$19.99
Crimes in Southern Indiana
---
---
A blistering, vivid and fearless slice of gut-wrenching hill-billy noir from a major new writer.
Welcome to Heartland America circa right about now, when the union jobs and family farms that kept the white on the picket fences have given way to meth labs, backwoods gunrunners, and bare-knuckle brawling.
Frank Bill's southern Indiana is haunted by a deep, abiding sense of place, and Frank Bill's people are men and women pressed to the brink - and beyond. They are survivors, and in Frank Bill's hands, their stories bristle with noir energy.
Flat-out fearless and unputdownable, Crimes in Southern Indiana is at once a gut punch and a wake-up call - and the announcement of an authentic, original American literary voice we simply can't ignore.
Published:

15 January 2013

ISBN:

9780099558446

Imprint:

Windmill Books

Format:

Paperback

Pages:

288

RRP:

$19.99
Praise for Crimes in Southern Indiana
Brutal and intoxicating.

Guardian
Take American gothic + Tarantino + 1 cup of human blood. Liquidise in blender. Result: The great stories of Frank Bill

Alan Warner
An astonishingly powerful debut book...It's a brutal rabbit punch of a book – a shotgun blast in the chest of literature and a crystal meth hit to the reader…Remarkable.

Doug Johnstone, Big Issue
Amazing collection…It's all overshadowed by a Southern Indiana landscape that proves eerily ideal for guns, hunting, secret meth labs and the casual infliction of terrible pain. 270 pages of gripping and harrowing shitloads of it.

Dazed and Confused
There's a whiskey-gargling swagger to [Frank Bill's] Cormac McCarthy-style prose, and each noir tale is savagely addictive.

Shortlist
Good Lord, where in the hell did this guy come from? Hits as hard as an ax handle to the side of the head after you've snorted a nose full of battery acid and eaten a live rattlesnake for breakfast. Seriously, I'm warning you in advance: take your heart medication and strap yourself to your bar stool for one of the wildest damn rides you're ever going to take inside a book.

Donald Ray Pollock, author of Knockemstiff
Dark, grim, and achingly beautiful. Frank Bill is one of the most original and compelling voices in this new generation of crime writers.

John Rector, author of The Cold Kiss
Some serious hillbilly-noir that had my ears ringing by the end. Open the first page... and duck.

Craig Clevenger, author of The Contortionistâ??s Handbook