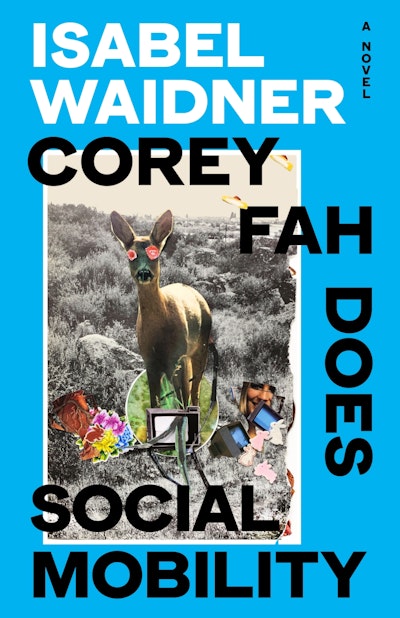 Published:

7 November 2023

ISBN:

9780241632536

Imprint:

Hamish Hamilton

Format:

Hardback

Pages:

160

RRP:

$32.99
Corey Fah Does Social Mobility
---
---
The radical, joyful follow-up to the Goldsmiths Prize-winning Sterling Karat Gold.
This is the story of Corey Fah, a writer on the cusp of a windfall, courtesy of the Social Evils prize committee, for whom the actual gong - and with it the prize money - remains tantalizingly out of reach.
Neon beige, with UFO-like qualities, the elusive trophy leads Corey, with partner Drew and surprise eight-legged companion Bambi Pavok, on a spectacular detour through their childhood in the Forest - via an unlikely stint on reality TV. Navigating those twin horrors, through wormholes and time loops, Corey learns - the hard way - the difference between a prize and a gift.
Both radiant and revolutionary, Isabel Waidner's fiction gleefully takes a hammer to false binaries, boundaries and borders, turning walls into bridges and words into wings. Fierce, fluid and funny, they free us to imagine another way of being.
This is a novel about coming into one's own, the labour of love, the tendency of history to repeat itself and the pitfalls of social mobility. It's about watching TV with your lover.
Published:

7 November 2023

ISBN:

9780241632536

Imprint:

Hamish Hamilton

Format:

Hardback

Pages:

160

RRP:

$32.99
Praise for Corey Fah Does Social Mobility
[The] writer everyone is talking about . . . and deservedly so . . . Their explosive sensibility and style are as far removed from mediocre prose and middle-class manners as you can imagine

Bernardine Evaristo
[The] writer everyone is talking about . . . and deservedly so . . . Their explosive sensibility and style are as far removed from mediocre prose and middle-class manners as you can imagine

Bernardine Evaristo
With each book, they get better and better. Corey Fah Does Social Mobility is that rare thing: An authentically radical novel that is joyful and hilarious

Merve Emre
With each book, they get better and better. Corey Fah Does Social Mobility is that rare thing: An authentically radical novel that is joyful and hilarious

Merve Emre
Buckle up! Corey Fah Does Social Mobility is a head-spinning, mind-bending roller coaster of fun, horror, and subversion. I love it

Kamila Shamsie
Buckle up! Corey Fah Does Social Mobility is a head-spinning, mind-bending roller coaster of fun, horror, and subversion. I love it

Kamila Shamsie
Waidner's original prose spins fantastical imagery with social commentary

Frieze
Waidner's original prose spins fantastical imagery with social commentary

Frieze
[It is] rare to find a novel with real stylistic and political ambition

Zadie Smith, Guardian
[It is] rare to find a novel with real stylistic and political ambition

Zadie Smith, Guardian
A dazzlingly original satirical novel about a writer on the edge of glory but struggling to get their hands on the prize

Harper's Bazaar
A dazzlingly original satirical novel about a writer on the edge of glory but struggling to get their hands on the prize

Harper's Bazaar
Waidner gifts us with another wild and radical tale

Hero 'Essential Reading'
Waidner gifts us with another wild and radical tale

Hero 'Essential Reading'
The fantastical and the familiar merge in this energetic inquiry into class politics and cultural capital . . . Since their debut novel, Gaudy Bauble, in 2017, Waidner's writing has been admired for its remarkable innovation, unflinching political vision, vivid language and, frankly, hilarious charm . . . It is tempting to predict that this book, which gives a whole new dimension to the idea of the zeitgeist . . . will see Waidner step on to the podium once more

Lara Pawson, Guardian
The fantastical and the familiar merge in this energetic inquiry into class politics and cultural capital . . . Since their debut novel, Gaudy Bauble, in 2017, Waidner's writing has been admired for its remarkable innovation, unflinching political vision, vivid language and, frankly, hilarious charm . . . It is tempting to predict that this book, which gives a whole new dimension to the idea of the zeitgeist . . . will see Waidner step on to the podium once more

Lara Pawson, Guardian
A bitingly sharp social satire

Marie Claire
A bitingly sharp social satire

Marie Claire
[A] sprightly novel . . . [Waidner] mischievously challenges received notions of social mobility

Ellen Peirson-Hagger, The New Statesman
[A] sprightly novel . . . [Waidner] mischievously challenges received notions of social mobility

Ellen Peirson-Hagger, The New Statesman
Filled with wickedly sharp commentary and well-aimed digs at hypocrisy and injustice . . . Waidner's idiosyncratic prose [paints] terrifying, transcendent and topsy-turvy images . . . Corey Fah Does Social Mobility is, perhaps surprisingly, both sentimental and optimistic in its depiction of love (for ourselves and those around us) as a radical act

Alice Wadsworth, The Times Literary Supplement
Filled with wickedly sharp commentary and well-aimed digs at hypocrisy and injustice . . . Waidner's idiosyncratic prose [paints] terrifying, transcendent and topsy-turvy images . . . Corey Fah Does Social Mobility is, perhaps surprisingly, both sentimental and optimistic in its depiction of love (for ourselves and those around us) as a radical act

Alice Wadsworth, The Times Literary Supplement
A radical, rebellious novel . . . [Waidner] brings a fresh lens to our troubled world . . . A biting, state of the nation work that raises the profile of civilisation's appointed underdogs and challenges the status quo of binary consciousness . . . bold, feisty work

Em Strang, Observer
A radical, rebellious novel . . . [Waidner] brings a fresh lens to our troubled world . . . A biting, state of the nation work that raises the profile of civilisation's appointed underdogs and challenges the status quo of binary consciousness . . . bold, feisty work

Em Strang, Observer