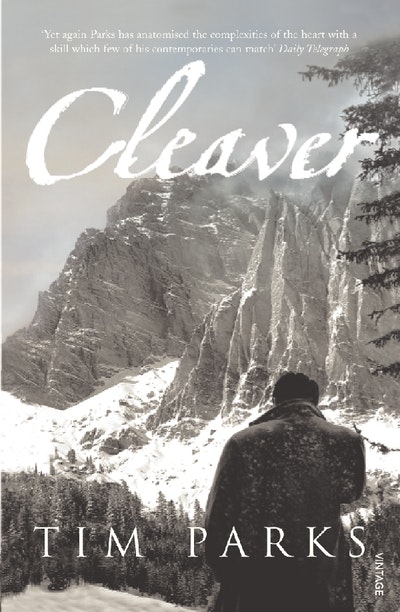 Published:

2 April 2007

ISBN:

9780099481393

Imprint:

Vintage

Format:

Paperback

Pages:

320

RRP:

$19.99
Cleaver
---
---
---
Profound and comic, the story of London TV journalist and interviewer Harold Cleaver, who suddenly walks away from his life to hide in the mountains of the Tyrol.
Overweight and overwrought, Howard Cleaver, London's most successful journalist, abruptly abandons home, partner, mistresses and above all television, the instrument that brought him identity and power. It is the autumn of 2004 and Cleaver has recently enjoyed the celebrity attending his memorable interview with the President of the United States and suffered uncomfortable scrutiny following the publication of his elder son's novelised autobiography. He flies to Milan and heads deep into the South Tyrol, fetching up in the village of Luttach. His quest: to find a remote mountain hut, to get beyond the reach of email, and the mobile phone, and the interminable clamour of the public voice.
Weeks later, snowed in at five thousand feet, harangued by voices from the past and humiliated by his inability to understand the Tyrolese peasants he relies on for food and whisky, Cleaver discovers that there is nowhere so noisy and so dangerous as the solitary mind.
Published:

2 April 2007

ISBN:

9780099481393

Imprint:

Vintage

Format:

Paperback

Pages:

320

RRP:

$19.99
Parks writes tragedy well and reveals Cleaver's piteous state, raw from loss and unable to mourn.....[Cleaver] is difficult to like and easy to judge, but he draws you into his world and convinces you to stay

Katie Gould, Scotland on Sunday
The book is written in plain, terse, highly effective prose, with Cleaver's thoughts coming at the reader pell-mell. Parks maintains a firm grip on this stream of consciousness, so that the narrative imitates the impatient, darting, obsessive quality of Cleaver's mind but never descends to incoherence

Peter Parker, Sunday Times
One can only admire the intelligence and skill with which Parks interleaves the disparate worlds of Chelsea and Sudtirol...I have now read Cleaver three times, and each has let me with greater respect for Park's abilities

James Hamilton-Paterson, Guardian
Cleaver ranks with the finest of Parks's club-class malcontents. An ogre with charisma he compels as much as he repels.... this novel should be required reading for all who preach from a media pulpit. It shows the hunter hunted, the exposer exposed. And it inspires - as only fiction could - sympathy for the old devil

Boyd Tonkin, Independent
A highly stimulating novel...As a critic, Cleaver would approve of his creator

Oscar Turner, Observer
Tim Parks is one of Britain's most underrated authors...His latest book, Cleaver, is a dense, intriguing novel, prickly and strange...The novel's portrait of a disintegrating mind is skilful, a fine anatomy of a psyche that flickers between ordinary neuroses and megalomania, and it offers a pungent critique of the middle-class media and their obsessions. Alongside this ruthless acuity, there is as well a certain human warmth

Henry Hitchings, Financial Times
Yet again, Parks has anatomised the complexities of the heart with a skill which few of his contemporaries can match

David Robson, Daily Telegraph
There is a pleasing substance to Cleaver's character and a heft to his vigorous mental energy that match his fleshy frame. What sounds like a deathly-dull premise - ageing bloke sits in silence in threadbare bolt-hole in the mountains - results in a scintillating and subtly nuanced narrative. The secret of its success? Masterful prose, just free-form enough to imitate the whirligig of thought. Parks deserves to take a bow.

Alastair Sooke, New Statesman