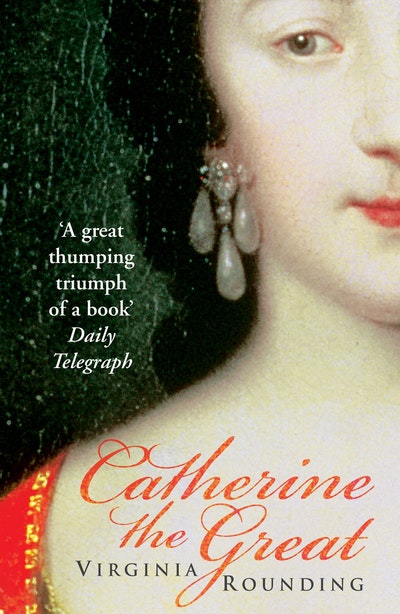 Published:

1 May 2007

ISBN:

9780099462347

Imprint:

Arrow

Format:

Paperback

Pages:

608

RRP:

$35.00
Catherine The Great
Love, Sex, and Power
---
---
Power politics and sexual politics combine in the life of an extraordinary woman who ruled Russia from 1762 until her death in 1796.
'THE MOST ACCESSIBLE AND ENJOYABLE PORTRAIT YET.' DAILY MAIL
______________________________________________________
Power, sex, and politics: the fascinating rule of one of Russia's most significant monarchs
Catherine the Great ruled Russia from 1762 until 1796. Famous for the legends circulated by political rivals about her sexual rapacity, some were true - though not the infamous rumour of her death by stallion. However, a conservative Russian court was shocked by her use of her sexuality as a political tool, as well as the number and age of her lovers.
Unhappily married to the Grand Duke Peter, a man who preferred to play with his toy soldiers in the bedroom, they failed to produce an heir, and Catherine turned her attentions to a certain Sergey Saltykov who fathered the future Tsar Paul I. Six months into the reign of Peter III, Catherine, supported by the Imperial Guard, staged a successful coup against her husband and became Empress. It was her ambition to transform a vast but semi-barbaric country with the cultural and political reforms of Enlightenment Europe.
In this fascinating biography, Virginia Rounding reveals an extraordinary woman in all her complexity.
______________________________________________________
'A great thumping triumph of a book.' DAILY TELEGRAPH
'Rounding shows that the reality is far more interesting than any of the fictions.' SCOTLAND ON SUNDAY
'An intimate study of Catherine's life' GUARDIAN
'Enjoyable and perceptive study . . . Rounding has read widely, and writes history with a no-nonsense style and a respectful relish for the details that make the past come alive.' Simon Sebag Montefiore, SUNDAY TELEGRAPH
'Rounding writes with enviable lucidity, and gives us the most accessible and enjoyable portrait yet.' DAILY MAIL
'Written with vigour and intelligence enough to do justice to its prodigious subject.' SUNDAY TIMES
Published:

1 May 2007

ISBN:

9780099462347

Imprint:

Arrow

Format:

Paperback

Pages:

608

RRP:

$35.00
Praise for Catherine The Great
Enjoyable and perceptive study ... Rounding has read widely, and writes punctilious, professional history with a no-nonsense style and a respectful relish for the details that make the past come alive.

Simon Sebag Montefiore, Sunday Telegraph
Rounding writes with enviable lucidity, and gives us the most accessible and enjoyable portrait yet.

Daily Mail
Written with vigour and intelligence enough to do justice to its prodigious subject.

Sunday Times
Rounding shows that ... the reality is far more interesting than any of the fictions.

Scotland on Sunday
For a sense of Catherine's intimate life, sexual appetites, preoccupations, ruthlessness, intellectual scope, sentimentality and dedication, this is a great piece of work.

FT Magazine
Rounding's respectful take is highly appropriate ... Through her eyes, we see a woman committed to Enlightenment values ... Catherine was both a highly sexual woman and an intellectual; there is nothing anyone need add to her story. It is all there.

Scotsman
Densely detailed and always absorbing.

Western Daily Press
A great thumping triumph of a book.

Daily Telegraph