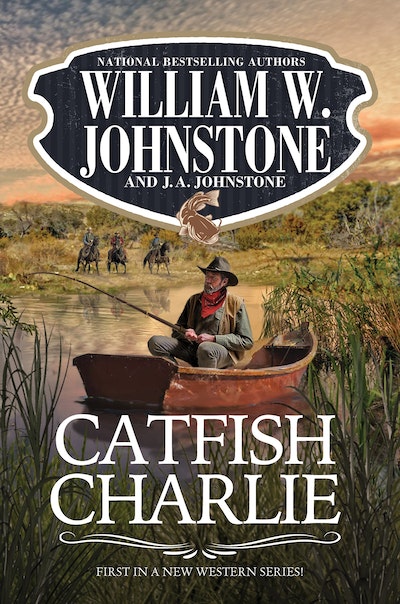 Published:

30 April 2024

ISBN:

9780786050468

Imprint:

Kensington

Format:

Paperback

Pages:

320

RRP:

$19.99
Catfish Charlie
---
---
JOHNSTONE COUNTRY. BACK IN THE SADDLE. AGAIN.
In this rip-roaring Western adventure, a once-famous Texas Ranger who's given up his badge and gone fishin' gets back in the saddle to set things straight—with guns blazin' . . .
As a former Texas Ranger, Charlie "Catfish Charlie" Tuttle spent the good part of his life catching outlaws. Happily retired in Wolfwater, Texas, he's content just catching fish—namely Bubba, the wily old catfish who lives in the pond near Charlie's shack and keeps slipping off Charlie's hook. He also likes hanging out with his trusty tomcat Hooligan Hank and tossing back bottles of mustang berry wine. Sure, his glory days are behind him. There's no reason for Charlie to even think about coming out of retirement . . .
It starts with a jailbreak. Frank Thorson and his gang ride into Wolfwater to bust Frank's brother out of the slammer. First, they slaughter the deputy. Then, the town marshal. Finally, they run off with the marshal's daughter and no one's sure if she's dead or alive. The townsfolk are desperate enough to ask that drunken old coot Catfish Charlie to put down his fishing pole and wine bottles, pick up his Colt Army .44, and go after the bloodthirsty gang. Sure, Catfish Charlie may be a bit rusty after all these years. But when it comes to serving up justice, no one is quicker, faster—or deadlier . . .
Once a lawman, always a lawman. Especially a lawman like Catfish Charlie Tuttle.
Published:

30 April 2024

ISBN:

9780786050468

Imprint:

Kensington

Format:

Paperback

Pages:

320

RRP:

$19.99