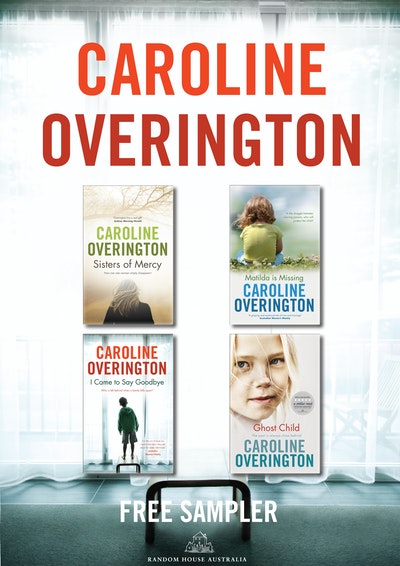 Published:

6 May 2011

ISBN:

9781742745268

Imprint:

Random House Australia

Format:

EBook

Pages:

150
Caroline Overington Free Sampler
---
---
Now in one volume you can read free sample chapters from all of Caroline Overington's bestselling novels Ghost Child, I Came to Say Goodbye, Matilda is Missing and Sisters of Mercy…
Now in one volume you can read free sample chapters from all of Caroline Overington's bestselling novels Ghost Child, I Came to Say Goodbye, Matilda is Missing and Sisters of Mercy…
GHOST CHILD: In 1982 Victorian police were called to a home on a housing estate an hour west of Melbourne. There, they found a five-year-old boy, Jacob, lying on the carpet. He died the next day. The boy's mother and her boyfriend went to prison for the crime, yet the real perpetrator, at least according to local gossip, was the boy's six-year-old sister, Lauren… Twenty years on, Lauren struggles with the ghosts of her childhood, and it seems only a matter of time before the past catches up with her.

I CAME TO SAY GOODBYE: It was four o'clock in the morning. A young woman pushed through the hospital doors. Staff would later say they thought the woman was a new mother, returning to her child - and in a way, she was. She walked into the nursery, where a baby girl lay sleeping. The infant didn't wake when the woman placed her gently in the shopping bag she had brought with her. There is CCTV footage of what happened next. The woman walked out to the car park, clipped the infant into a car, got in and drove off. That is where the footage ends. It isn't where the story ends, however. It's not even where the story starts.
MATILDA IS MISSING: Garry Hartshorn and Softie Monaghan were never love's young dream. Not even on their wedding day. But Softie's body clock was ticking, and Garry wanted children …So they got married, and produced the only thing they ever had in common. Matilda. Now, two years later, their golden-haired child is at the centre of a bitter custody battle. Both parents insist that her well-being is the only thing they care about. Yet, in truth, Matilda was always the one most likely to become lost.
SISTERS OF MERCY: Snow Delaney was born a generation and a world away from her sister, Agnes. Until recently neither even knew of the other's existence. They came together only after the reading of their father's will – when Snow discovered, to her horror, that she was not the sole beneficiary of his large estate. Now Snow is in prison and Agnes is missing. With no other family left, Snow turns to crime journalist Jack Fawcett, protesting her innocence in a series of defiant letters. Has she been unfairly judged? Or will Jack's own research reveal a story even more shocking than the one Snow wants to tell?
Published:

6 May 2011

ISBN:

9781742745268

Imprint:

Random House Australia

Format:

EBook

Pages:

150