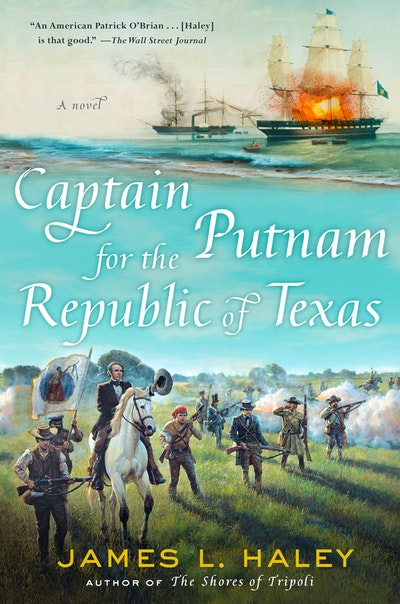 Published:

19 January 2021

ISBN:

9780593085110

Imprint:

Putnam

Format:

Hardback

Pages:

432

RRP:

$49.99
Captain Putnam for the Republic of Texas
---
---
In this next installment of award-winner James L. Haley's gripping naval saga, Captain Bliven Putnam returns, embedding himself within a secret mission during the Texas Revolution that puts everything at risk.
1836: Having spent the past few years on various missions in the Caribbean, and battling a nasty bout of malaria, Captain Bliven Putnam is all but ready to retire and settle down properly in Connecticut with his wife, Clarity. But as the Texas Revolution kicks off and tensions in the Gulf of Mexico rise, Putnam is sent orders for a secret campaign that might turn the tides of the rebellion. For months, American settlers in Texas have been revolting against an increasingly tyrannical Mexican government. But while the Texans have a small, yet powerful, army under the command of Sam Houston, a one-time protégé of President Andrew Jackson, their navy is practically nonexistent. Such a lack of naval presence becomes dire when Mexican forces are caught using American vessels to smuggle war materials and supplies to their troops, a direct strike against America's proclaimed neutrality.
While the US is unable to risk any overt involvement, Jackson hand-selects Putnam to lead a mission in secret: in an aging brig disguised with the Republic of Texas flag, he's to venture into the waters of the Gulf and intercept the trafficking ring, making powerful enemies in the Mexican Navy. Reunited with his old friend Sam Bandy, Putnam teams up with Sam Houston to run the operation, all while some of the most dangerous battles of the revolution are about to begin.
Published:

19 January 2021

ISBN:

9780593085110

Imprint:

Putnam

Format:

Hardback

Pages:

432

RRP:

$49.99