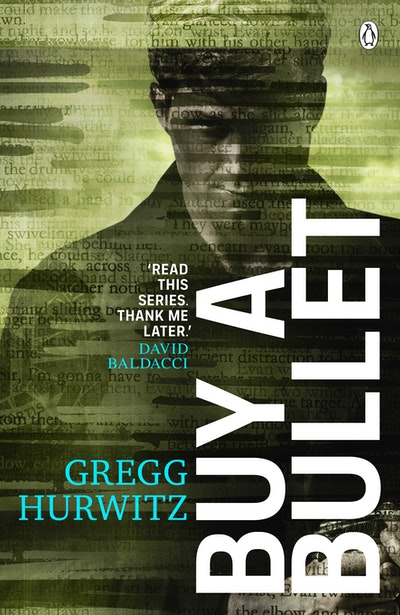 Published:

17 February 2022

ISBN:

9781405953221

Imprint:

Penguin Audio

Format:

Audio Download

RRP:

$12.00
Buy a Bullet
An Orphan X Short Story
---
---
---
AN ORPHAN X EBOOK EXCLUSIVE SHORT STORY
He is known by some as Evan Smoak. To a few he is known as Orphan X. But generally he is not known at all.
Taken from a children's home as a young boy, Evan Smoak was a trained to become a government operative known as Orphan X. But then he broke with the programme.

Now living out of sight and out of reach of his former employers, Evan chances upon a young woman in a coffee shop in Northern California who needs his help. Brutalized and under the control of a very powerful, dangerous man, she knows her life is at risk if she doesn't escape. And Evan knows that only a man with his particular set of skills has any chance of setting her free. His next move was never in doubt.

Buy A Bullet is the story of the day Orphan X became The Nowhere Man.

Published:

17 February 2022

ISBN:

9781405953221

Imprint:

Penguin Audio

Format:

Audio Download

RRP:

$12.00
Outstanding in every way

Lee Child
Read this book. You will thank me later

David Baldacci
The most gripping thriller I've read in a long, long time!

Tess Gerritsen
The page-turner of the season is Orphan X ... Wonderful

The Times
Memorable as hell

James Patterson
The most exciting thriller I've read since The Bourne Identity

Robert Crais
A page-turning masterpiece

Jonathan Kellerman
A new series character to rival Reacher

Independent
A masterpiece of suspense and thrills . . . Turn off the real world and dive into this amazing start to a new series

Daily Mail
There is a pristine classicism to Gregg Hurwitz's Orphan X, which borrows from Robert Ludlum and superhero lore to bring us Evan Smoak . . . Orphan X is tight and tense in all the right places . . . Orphan X is weapons-grade thriller-writing from a modern master.

Guardian
Pure nail-biting stay-up-all-night suspense

Harlan Coben
Orphan X is not good. Orphan X is great. Whatever you like best in a thriller - action, plot, character, suspense - Orphan X has it

Simon Toyne
Mind blowing! A perfect mix of Jason Bourne and Jack Reacher

Lisa Gardner
Bond, Frodo, Paddington Bear - some of literature's greatest heroes have been orphans. Add Orphan X's Evan Smoak to the list

Shortlist
Orphan X is outstanding . . . a smart, stylish, state-of-the-art thriller

Washington Post
Bestseller Hurwitz melds non-stop action and high-tech gadgetry with an acute character study in this excellent series opener . . . Evan Smoak is an electrifying character

Publisher's Weekly
A masterpiece of suspense and thrills . . . Turn off the real world and dive into this amazing start to a new series

Associated Press