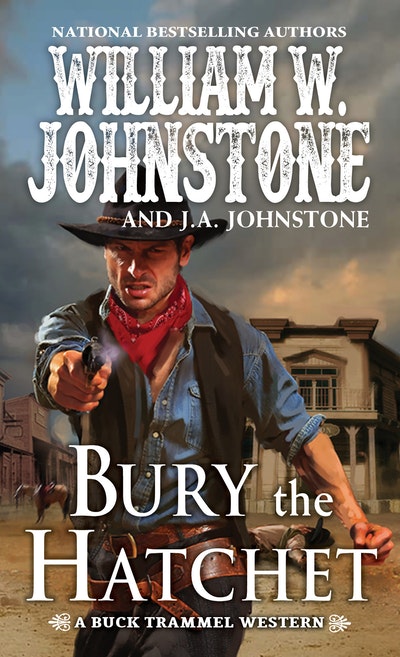 Published:

25 November 2020

ISBN:

9780786045877

Imprint:

Kensington

Format:

Paperback

Pages:

352

RRP:

$12.99
Bury the Hatchet
---
---
Former Pinkerton agent Buck Trammel has made quite a name for himself in the Old West. Now he's got to live up to his own legend—or get gutshot trying…
Johnstone Country. The Bullets Stop Here.
IF YOU CAN'T BEAT 'EM, SHOOT 'EM
There are two things a man can never escape: his past and his destiny. For Buck Trammel, that past includes a fatal mistake that ended his career as a Pinkerton—and a deadly shootout with the Bower gang in a Witchita saloon. Call it luck or call it fate, but the famous Deputy Wyatt Earp was there to give Buck some advice: Run for your life. Maybe it was Earp's warning that saved him from the gang's wrath. Maybe it was destiny that brought him to the town of Blackstone, Wyoming, where his biggest problem is a father-son brewing war. But Trammel's luck is about to run dry. . .
The gang's ruthless boss, Old Man Bower, knows where Trammel lives. He's assembled a small army of gunslingers. He's hired a Pinkerton with a grudge against Trammel. And he's coming to town to bury the hatchet . . .
Live Free. Read Hard.
Published:

25 November 2020

ISBN:

9780786045877

Imprint:

Kensington

Format:

Paperback

Pages:

352

RRP:

$12.99