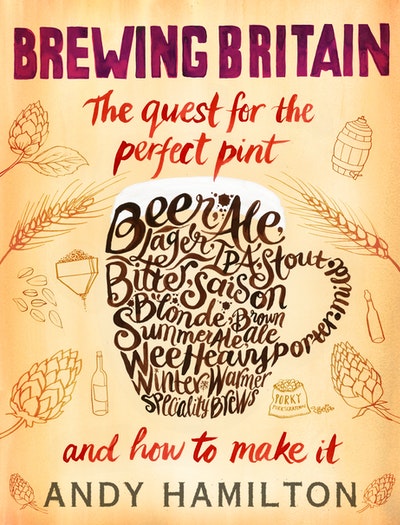 Published:

15 July 2015

ISBN:

9780593076576

Imprint:

Bantam Press

Format:

Hardback

Pages:

432

RRP:

$22.99
Brewing Britain
The quest for the perfect pint
---
---
Andy Hamilton travels the length of Britain in a quest to uncover new and unusual beers and to find that elusive perfect pint.
When bestselling UK Homebrew author Andy Hamilton began work on his new book, Brewing Britain, he embarked on a quest to discover whether there could be a perfect pint in the UK. After two years of (arduous) study of hundreds if not thousands of beers from around the country - visiting brewers, testing beer kits and, of course, brewing his own - he found that in fact there were many perfect pints. Buy Brewing Britain and:
·Discover lagers that are not loutish, beers that will win over wine lovers, the ideal temperature for serving ale, and the best glass to drink it from
·Experiment with forty recipes from ancient times to the modern day and really get to know your ingredients with an in-depth account of many of the hops and malts available
·Hone your tasting skills at sessions in local pubs, breweries and beer festivals near you
Brewing Britain: the essential companion for our beer drinking nation in its search for that elusive perfect pint.
Published:

15 July 2015

ISBN:

9780593076576

Imprint:

Bantam Press

Format:

Hardback

Pages:

432

RRP:

$22.99
Praise for Brewing Britain
This book is a cracking good read for anyone interested in beer. Andy Hamilton displays his expert knowlege of beer and brewing, with a touch of earthy humour and witty banter, making this book fun as well as informative.

Jim's Beer Kit
This fascinating book tells you everything you need to know about the search for a perfect pint, from discovering new beers to learning how to taste them properly and even how to brew your own.

Best of British Magazine
A comprehensive guide to some well-known brews alongside the chance to learn from Andy Hamilton's years of experience.

Falcata Times
A handy how-to guide for home brewers, with guides to British beers, beer shops, festivals and more.

The Evening Standard
Enjoyable with excellent summaries.

The Guest Ale