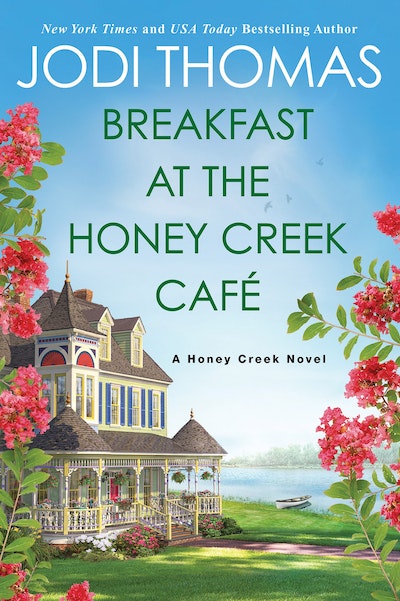 Published:

26 May 2020

ISBN:

9781420151282

Imprint:

Kensington

Format:

Paperback

Pages:

336

RRP:

$26.99
Breakfast at the Honey Creek Café
---
---
---
From New York Times and USA Today bestselling author Jodi Thomas, a romantic, heartwarming contemporary novel set in Honey Creek, Texas--a little town nestled in the rolling hills bordering the Brazos River, where family bonds and legends run deep, and friendship and love are always close to hand . . .
A heartwarming, romantic novel (but not a romance) set in present-day Texas...for fans of Debbie Macomber, in addition to Jodi Thomas's enthusiastic fan base.
Wayward Bend, Texas is a lazy little town of 12,000 people in book one. It was founded the year after the Alamo fell, 1836, on rolling hills that border the Brazos River. Family bonds and feuds run deep but kindness and honesty is usually the order of the day.That may be why: when the entire sheriff's office is arrested the town has trouble believing it. The sheriff, both deputies, and three part-time employees are in jail and the mayor, Darci Cassidy has to find someone to investigate as well as help her keep order.
Sam Burns and Coby Riddell come highly recommended only everyone in town has a theory and wants to help.
As they struggle to keep order, the mayor has one more problem arise, which one of the men does she love. At thirty-six she believes the right man will never come along. Now two show up.Coby, signs on as sheriff. He has to deal with people confessing to all kinds of small crimes so they can get in the courthouse and find out what is going on. Sam is appointed Justice of the Peace as he secretly helps Coby.
Sam wins everyone's heart in town with his easygoing ways. Coby can't even get a dessert at the county monthly meeting. In a town where folks brag about how many outlaws they have in their family tree, Coby has trouble finding whom to trust. And the woman who seems to have the most secrets draws him closer.They all discover that in the worst of times, the best in people comes out.
Published:

26 May 2020

ISBN:

9781420151282

Imprint:

Kensington

Format:

Paperback

Pages:

336

RRP:

$26.99