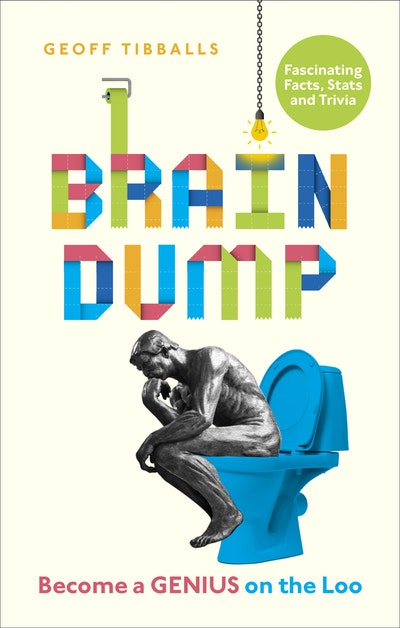 Published:

20 August 2019

ISBN:

9781529102574

Imprint:

Pop Press

Format:

Trade Paperback

Pages:

800

RRP:

$22.99
Brain Dump
Become a Genius on the Loo
---
---
If there is one other paper-based product you will want to keep close at hand in the loo it is Brain Dump - the ultimate toilet trivia book.

Also works well as emergency loo roll.
While you're not going anywhere, why not expand your mind with Brain Dump?
Learn thousands of fascinating facts, stats and trivia. Guaranteed to boost your brain, this bumper compendium covers every subject from football to phobias, mountains to the Muppets and spiders to Shakespeare.
It features hundreds of mind-blowing entries from Types of Cloud to the Longest Song Titles. And it's not just for the bathroom but the bedroom too! Struggling to sleep? Turn to the Fascinating Facts About Sheep and other gems to tire and train your brain. Zzzzzzzzzz...
Printed on soft absorbent paper for emergencies.
Published:

20 August 2019

ISBN:

9781529102574

Imprint:

Pop Press

Format:

Trade Paperback

Pages:

800

RRP:

$22.99