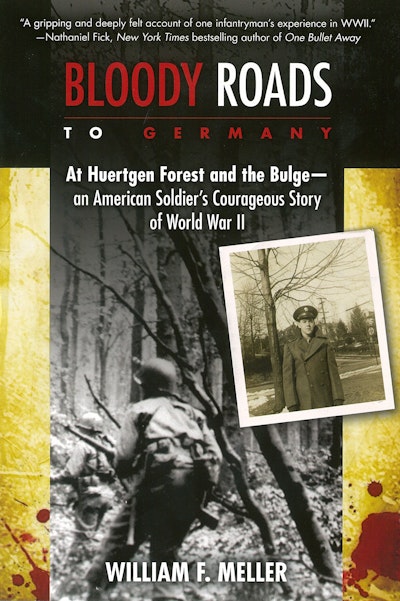 Published:

26 February 2014

ISBN:

9780425259627

Imprint:

Berkley

Format:

Paperback

Pages:

208

RRP:

$24.99
Bloody Roads to Germany: At Huertgen Forest and the Bulge - an American Soldier's Courageous Story of World War II
---
---
He never planned on becoming a leader—or a hero . . .

He never planned on becoming a leader—or a hero . . .
In early October of 1944 Private William Meller was twenty years old.  Joining I Company, 28th Division as a rifleman, he was indoctrinated on the front line to the horrors of fighting the battle-hardened German Wehrmacht in the wet, freezing cold of Huertgen Forest.  In early November, while fighting with only rifles and grenades for three days and without food, water, or medical supplies, two hundred men of I Company were surrounded, killed, wounded, or captured.  This created the only cease fire in World War 11.  Meller and two GIs escaped to the American lines with the guidance of a German corporal.
In early November, I Company was re-formed, with Meller as sergeant, squad leader, Second Platoon.  They moved to the Ardennes and installed their outpost one half mile from the Siegfried Line on the German-Luxembourg border next to Walthausen.  At 6:30 a.m. on December 16 the Panzer-Lehr German division crossed the Our River.  Along with Staff Sergeant Meller - who was now the platoon leader - twelve men stopped the German amored infantry offensive until they ran out of ammunition and the Panther tanks arrived at 4:30 p.m.  This was beginning of the Battle of the Bulge. 
Includes photos
'This is one of the finest combat memoirs I have ever read and I highly recommend it.' John. C. McManus, author of The Deadly Brotherhood and Grunts
'A true piece of outstanding literature, gripping and convincing.  This is very rarely found.  A masterpiece.' Christian Frey, TV director, German History Channel

Published:

26 February 2014

ISBN:

9780425259627

Imprint:

Berkley

Format:

Paperback

Pages:

208

RRP:

$24.99