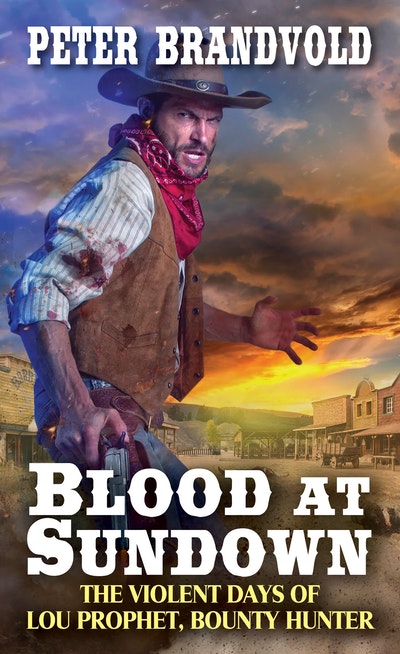 Published:

15 January 2019

ISBN:

9780786043484

Imprint:

Kensington

Format:

Paperback

Pages:

304

RRP:

$14.99
Blood At Sundown
---
---
In Lou Prophet's lawless West, justice comes from the barrel of a gun—his gun. Peter Brandvold's acclaimed two-fisted Westerns tell of the bloody days (and thrilling nights) of the bounty hunter called Prophet, and the dangerous woman he dared to love. . . .

BLOOD AT SUNDOWN
Lou Prophet and the deadly Louisa Bonaventure have torn a bloody swath across Dakota territory in search of the Griff Hatchley gang. When they finally catch up to them, an epic blizzard threatens to turn the Dakota prairie into a frozen hell. To bag their prey before the storm hits, Prophet and Louisa split up—and take separate paths towards damnation.
DEATH IN THE SNOW
Prophet's course takes him into a town packed to the gills with the deadliest outlaws that roamed the frontier, while Louisa gets caught in Sundown, a one-horse town where a hatchet-wielding maniac threatens to paint Main Street red. When spring's thaw comes, they'll find a city of corpses beneath the snow.
And nobody gives a damn about the law . . .
"Here's a writer with the hot, fast violence of the early Mickey Spillane and the guts to write what he wants."
—Tom McNulty, Dispatches From the Last Outlaw
Published:

15 January 2019

ISBN:

9780786043484

Imprint:

Kensington

Format:

Paperback

Pages:

304

RRP:

$14.99