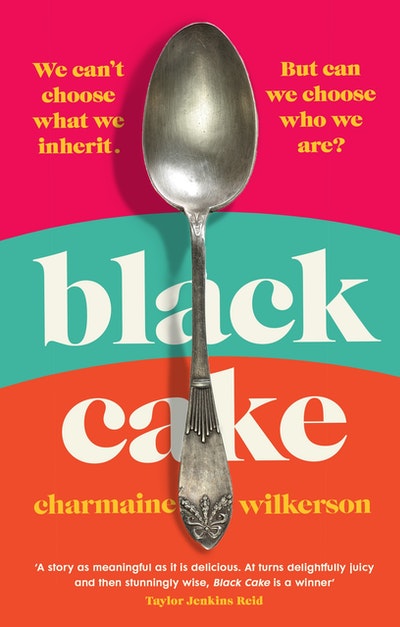 Published:

15 February 2022

ISBN:

9780241529935

Imprint:

Michael Joseph

Format:

Trade Paperback

Pages:

400

RRP:

$32.99
Black Cake
The No 2 New York Times Bestseller
---
---
---
Crossing continents and juggling lives, Black Cake is a moving and powerful debut which spans sixty years in the life of one Caribbean/American family
Eleanor Bennett won't let her own death get in the way of the truth. So when her estranged children - Byron and Benny - reunite for her funeral in California, they discover a puzzling inheritance. First, a voice recording in which everything Byron and Benny ever knew about their family is upended. Their mother narrates a tumultuous story about a headstrong young woman who escapes her island home under suspicion of murder, a story which cuts right to the heart of the rift that's separated Byron and Benny. Second, a traditional Caribbean black cake made from a family recipe with a long history that Eleanor hopes will heal the wounds of the past.
Can Byron and Benny fulfil their mother's final request to 'share the black cake when the time is right'? Will Eleanor's revelations bring them back together or leave them feeling more lost than ever?
Published:

15 February 2022

ISBN:

9780241529935

Imprint:

Michael Joseph

Format:

Trade Paperback

Pages:

400

RRP:

$32.99
I was instantly taken in by this multi-generational tale of identity, family, and the lifelong push and pull of home. This novel has a tremendous heart at its centre, and I felt its beat on every page. What an extraordinary debut

Mary Beth Keane, bestselling author of <i>Ask Again, Yes</i>
A multi-generational debut generating hype

Grazia
An extremely assured debut which pulls in threads and echoes from across the Caribbean diaspora to deliver a rich, complex and really satisfying novel

Alison Finch, BBC Radio 4
So beautifully written I'm struggling to believe it's a debut. The cake is the glue that holds all the layers together and the scenes are so well drawn I could almost taste the cake, feel the warm sea on my skin. My heart broke and was put back together. Bravo

Nikki May, author of <i>Wahala</i>
BLACK CAKE has all the ingredients of the tastiest stories: secrets, romance, danger, and a cast of characters so real you want to scream at them one moment and hug them the next. I felt nearly breathless while reading Eleanor's truth - as if I were right there in the room with Byron and Benny, wholly immersed in their mother's tragedies and triumphs

Dawnie Walton, author of <i>The Final Revival of Opal and Nev</i>
A stunning page-turner, with characters that felt real and relatable. I can't recommend this book highly enough. An incredible debut

Louise Hare, author of <i>This Lovely City</i>
Black Cake is a beautiful, deeply resonant story of children trying to understand the mother they have lost. Charmaine Wilkerson transports you across the decades and the globe accompanied by complex, wonderfully drawn characters. She has managed to tell a story that is as meaningful as it is delicious. At turns delightfully juicy and then stunningly wise, Black Cake is a winner

Taylor Jenkins Reid, <i>Sunday Times</i> bestselling author of <i>Daisy Jones and The Six</i>
Black Cake took a hold of me from the first page and didn't let go ... A gripping, poignant debut from an important new voice

Naima Coster, <i>New York Times</i> bestselling author of <i>What's Mine and Yours</i>
You can't help but fall in love with this book

Stylist
A shining family saga . . . Readers will adore this highly accomplished effort from a talented new writer

Publishers Weekly, Starred Review
Included in 'The books we're looking forward to in 2022'

Good Housekeeping
Wilkerson explores the nuances of racial identity and betrayal in a powerful novel

Vogue
Black Cake is such an engaging novel. The structure works brilliantly with its dual narrative and short, sharp chapters. As I read, I felt like I could taste the sweet and spice of the black cake that links generations of the same family. Wilkerson's Black Cake is filled with secrets, family ties and hidden desires. It is an extremely satisfying read that stays with you long after the final page. As moreish as its title. If you want to be transported, read this book

Jodie Chapman, author of <i>Another Life</i>
One of the most feverishly anticipated debuts of the year

Daily Mail
I really savoured this rich, layered family saga ... Charmaine's writing is subtle and lyrical, pulling you into a powerful story of secrets, roots and identity. The flavour of it will linger long after you've finished

Beth Morrey, bestselling author of <i>Saving Missy</i>
Unputdownable. Astonishing. Twists and turns so shocking they will leave your head spinning and your heart aching

Grazia
A special, beautifully written novel that's as rich and intoxicating as the Jamaican rum cake of its title

Good Housekeeping
I loved the brilliant writing, the characters and the clever and beautiful way the story melded together. A stunning book

Prima, 'BOOK OF THE MONTH'
A family drama meets murdery mystery

Sunday Times
A delicious novel. The chapters come fast and furious . . . A satisfying literary meal, heralding the arrival of a new novelist to watch

Independent
Utterly engrossing and full of twists, Black Cake is absolutely worth the calories

Red
An extraordinary debut

Hello!
This powerful debut about family and identity, set against a backdrop of Caribbean culture, history and traditions, already has the stamp of approval from Oprah

Heat
A powerful, beautiful debut

Woman's Own
Black Cake explores the ways we use meals not just to nourish ourselves but to help tell unspeakable stories. Family, food, festering resentment - you'll find plenty to chew on . . . Wilkerson approaches her plot like a mad chef, grabbing ingredients from all over the world, slicing and dicing with abandon, tossing characters and palm fronds and a few drops of rum into a pot and letting it all come to a simmer . . . A roiling soup of family secrets, big lies, great loves, bright colours and strong smells

New York Times
Completely blew me away ... I loved the brilliant writing, the characters and the clever and beautiful way the story melded together ... this is a stunning book

Red, Book of the Month
Delving into ideas around identity, familial bonds and lifelong secrets, Black Cake looks to be a wildly moreish page-turner

Refinery29
A delight to read, each page of Black Cake is more interesting than the last. Wilkerson weaves social history into the backbone of the story, in a way that's nothing short of masterful

Courier
A skilful debut about family secrets - and food

i news
A wonderful immersive experience

Daily Mail
A beautiful read - a real pageturner

Women's Hour, BBC Radio 4
A delight to read, each page of Black Cake is more interesting than the last. Wilkerson weaves social history into the backbone of the story, in a way that's nothing short of masterful.

Herald
A resonant story of identity, family and the meaning of home

Mail on Sunday
A delight to read, each page of Black Cake is more interesting than the last. Wilkerson masterfully weaves social history into the backbone of the story

Press Association
The perfect recipe for an epic family drama . . . Feuds, grief, and a murder make Charmaine Wilkerson's Black Cake unputdownable

Grazia Book Club Online
Touching on racism and acceptance, betrayal and loyalty, this emotional, heartfelt debut explores the meaning of home and the family that define it

Daily Express