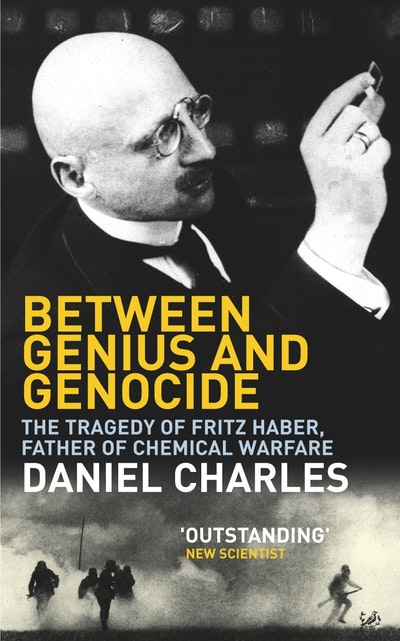 Published:

31 March 2011

ISBN:

9781446468845

Imprint:

Vintage Digital

Format:

EBook

Pages:

336
Between Genius And Genocide
The Tragedy of Fritz Haber, Father of Chemical Warfare
---
---
The astonishing story of the first man to fix nitrogen from the air, which led to the mass production of agricultural fertilisers; winner of the Nobel Prize; the creator of chemical warfare; a German patriot destroyed by the Nazis.
In January 1934, as Hitler's shadow began to fall across Europe, a short, bald man carrying a German passport arrived at the Hotel Euler in Basle. He seemed haunted and restless, as though he urgently needed to be elsewhere.
Fritz Haber, Nobel laureate in chemistry, confidante of Albert Einstein and German war hero, had arrived in Basle a broken man and, three days later, he died leaving an uncertain legacy. For some, the great German chemist was a benefactor of humanity, winner of a Nobel prize for inventing a way to nourish farmers' fields with nitrogen captured from the air. For others, he was a war criminal who personally supervised the unleashing of chlorine clouds against British, French and Canadian troops in World War I.
Tragedy marked his life. A week after the first gas attack in 1915, Haber's wife took his pistol and shot herself. And in 1933, when Hitler came to power, 'the Jew Haber' was among the first scientists driven out of Germany. Within a year, Haber was dead - denied honour both in his homeland and abroad.
No life reveals the moral paradox of science - its capacity to create and destroy - more clearly than Fritz Haber's. Between Genius and Genocide is a story filled with ambition, patriotism, hubris and tragedy, set amidst huge technological advances, arms races, mounting imperialism and war.
Published:

31 March 2011

ISBN:

9781446468845

Imprint:

Vintage Digital

Format:

EBook

Pages:

336
Praise for Between Genius And Genocide
A study of one of the most talented chemists of the 20th century... Charles tells the story with clarity and vigour.

Alan Cane, Financial Times
Compelling... Haber's story is a salutary tale for all who insist science is value-free, as Charles makes clear in his gripping and nuanced account... Fate has been kind to Haber in one regard. In Charles, he has a sophisticated biographer whose accessible style belies the depth of scholarship and research which underpins the work... The result is an outstanding work, and one which should be mandatory reading for critics and cheerleaders of science alike.

New Scientist
Haber's story is an enduring scientific tragedy, one that Charles tells with commendable clarity, style and brevity.

Robert McKie, Observer
A deeply thoughtful study of Fritz Haber - a brilliant, fascinating and finally tragic figure - and his equivocal legacy... A book to make one ponder.

Oliver Sacks