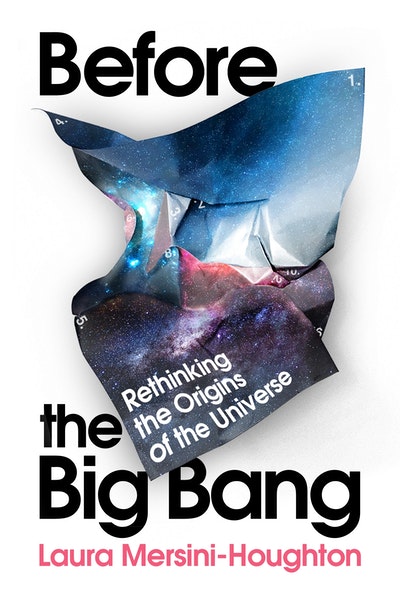 Published:

2 August 2022

ISBN:

9781847925527

Imprint:

Bodley Head

Format:

Trade Paperback

Pages:

240

RRP:

$35.00
Before the Big Bang
The Origin of Our Universe from the Multiverse
---
---
---
Beyond the Big Bang presents a new cutting-edge theory from a pioneering scientist about the origins of our universe.
Professor Laura Mersini-Houghton takes the reader through a brief history of ideas about the universe from ancient Greece to the latest frontiers of theory and observation, in which the author has been a leading participant, to bring us to her theory that our universe is not just one isolated phenomenon, but one of many, part of what she calls "the multiverse".
Blending the personal with the theoretical, the book will explain in layman's terms Mersini-Houghton's theory of the origin of our universe and how she came to it. If Mersini-Houghton is proved to be right, the Big Bang theory will be just one other discredited theory and her new theories about the multiverse will represent a paradigm shift as significant as the Copernican Revolution that upended the Ptolemaic model of the heavens, which described the cosmos as having the Earth as the centre of the universe.
Beyond the Big Bang completes the story of the before and after the Big Bang by addressing key questions about the origin of the universe and what was there before.
Published:

2 August 2022

ISBN:

9781847925527

Imprint:

Bodley Head

Format:

Trade Paperback

Pages:

240

RRP:

$35.00
Praise for Before the Big Bang
What if our universe, vast though it may be, is but an infinitesimal fragment of reality? What would this 'multiverse' be like? What would be the implications? And how could we possibly test the idea? There is no better guide to the bizarre, and sometimes paradoxical, cosmic super-realm than Laura Mersini-Houghton, who has devoted her research to seeking the tell-tale signs in the sky hinting that our universe is indeed not alone

Paul Davies, Arizona State University and author of What's Eating the Universe? And other cosmic questions
Laura Mersini-Houghton's Before the Big Bang provides a fascinating account of the background and underlying motives for her intriguing proposal for the physical principles that may have governed the explosive origin of our universe

Roger Penrose, University of Oxford, Nobel laureate, and author of Cycles of Time and The Road to Reality
From one of the world's most renowned cosmologists, Before the Big Bang offers insights into the Big Bang and, beyond it, into the majestic world of a quantum multiverse. The tale of Laura Mersini-Houghton's journey of discovery, interlaced with her personal stories of growing up in communist Albania and breaking free of its confines, makes for a fascinating read

Stephon Alexander, Brown University, and author of Fear of a Black Universe and The Jazz of Physics