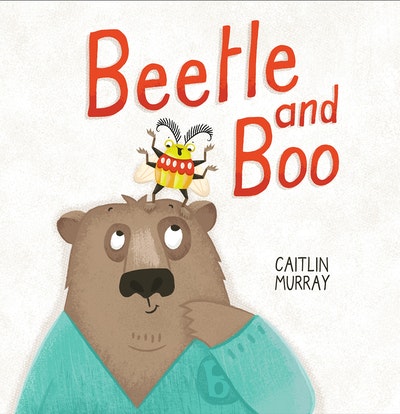 Published:

4 February 2020

ISBN:

9780143796565

Imprint:

Puffin

Format:

Hardback

Pages:

24

RRP:

$17.99
Beetle and Boo
---
---
Beetle is brave. Beetle is boastful. Boo is going to test her claims.
Beetle says that she's not scared of anything! But surely everyone is scared of something? Can Boo find out what Beetle is really scared of?
Published:

4 February 2020

ISBN:

9780143796565

Imprint:

Puffin

Format:

Hardback

Pages:

24

RRP:

$17.99
Praise for Beetle and Boo
Charmingly sweet and amiable, with bright, strong visuals and an underlying message of 'things are not always as they seem', Beetle and Boo is a cheeky story that preschool children will delight in over and over again.

Romi Sharp, Junior Books + Publishing
While it is a short book to read, it's also a book that our children loved and has became another favourite as we all read it again and again and again! Brilliant!

impulsegamer.com
What a wonderful story for younger children as they begin to first encounter things that bump in the night! The story focusses on typical childhood fears, and through Boo trying to find what Beetle is scared of, a discussion about irrational fears can be had. The fears concerning spiders, the dark and loud noises are warranted for the sensory stimulation they evoke in those who are younger – but what the story and the illustrations do is show that there is really nothing to be afraid of!

goodreads.com
Tiny Beetle and gentle giant Boo the bear want kids to know it's OK to be scared of the big wide world, no matter what your size . . . Caitlin Murray takes common childhood fears and turns them into a cheeky, fun tale that both scaredy cats and brave youngsters will want to read over and over.

Herald Sun
This is a lovely book for littlies about facing your fears and dealing with them told with a mix of minimal text, all in the dialogue between Beetle and Boo, and detailed, delightful illustrations that have to put a smile on the face. Especially when Boo proves Beetle wrong! One to share and share again!

Barbara Braxton, Teacher Librarian, thebottomshelf.edublogs.org
This cheeky story is a delightful depiction of a teasing but good-natured friendship between a great, big bear and a tiny, unbelievably confident beetle . . . Murray's text is simple and easily accessible for sharing with young readers, whilst her stunning illustrations conjure up a fascinating miniature world which will thrill and engage young readers . . . With themes surrounding childhood fear, unlikely friendships and getting to know one another, Beetle and Boo is the perfect picture book to share with early years children and offers some light-hearted fun and comfort when we consider and talk about common childhood fears.

Lisa Mercer, CBCA Reading Time
The relationship between the two friends is wonderfully portrayed in the text and illustrations. The size of Boo compared with his beetle friend will be a source of merriment amongst the readers and they will enjoy the humorous conversation between the two as they try to find something Beetle is scared of. In doing this they are discussing common childhood fears and by rejecting them, undermine their importance in the children's lives.

Fran Knight, Read Plus
Article
Easy activities for kids at home
Keep the kids entertained with these fun book-related ideas. There's an activity book for every age: one for littlies, one for kids and one for grown-ups too!
Article
Article