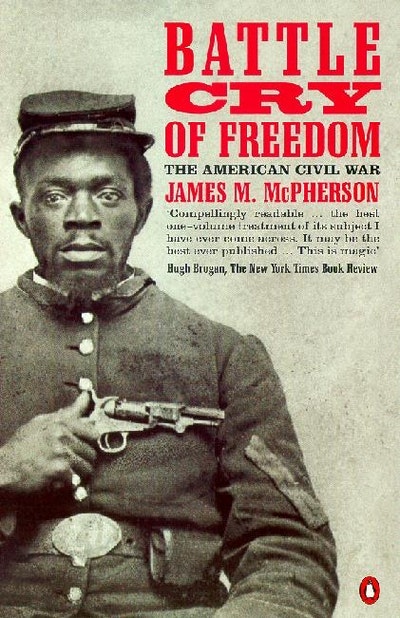 Published:

29 March 1990

ISBN:

9780140125184

Imprint:

Penguin Press

Format:

Paperback

Pages:

944

RRP:

$35.00
Battle Cry Of Freedom
---
---
Winner of the Pulitzer Prize for History
'Read it. It will open your eyes about race history in America. It will shock you for what it tells you about politics in America today.' Richard Ford
'A remarkably wide-ranging synthesis of the history of the 1850s and the Civil War ... that effectively integrates in one volume social, political and military events from the immediate aftermath of the Mexican War through the sectional strife of the 1850s, the secession movement, and the Civil War ... It is a masterful work' New York Review of Books
'Compellingly readable ... the best one-volume treatment of its subject I have ever come across. It may be the best ever published ... This is magic' The New York Times
This book covers one of the most turbulent periods of the USA's history, from the Mexican War in 1848 to the end of the Civil War in 1865. With a broad historical sweep, it traces the heightening sectional conflict of the 1850s: the growing estrangement of the South and its impassioned defence of slavery; the formation of the Republican Party in the North, with its increasing opposition to slavery; and the struggle over territorial expansion, with its accompanying social tensions and economic expansion. The whole panorama of the Civil War is captured in these pages, from the military campaign, which is described with vividness, immediacy, a grasp of strategy and logistics, and a keen awareness of the military leaders and the common soldiers involved, to its political and social aspects.
%%%McPherson recounts the momentous episodes that preceded the Civil War including the Dred Scott decision, the Lincoln-Douglas debates, John Brown's raid on Harper's Ferry. From there it moves into a masterful chronicle of the war itself--the battles, the strategic maneuvering by each side, the politics, and the personalities.
Published:

29 March 1990

ISBN:

9780140125184

Imprint:

Penguin Press

Format:

Paperback

Pages:

944

RRP:

$35.00