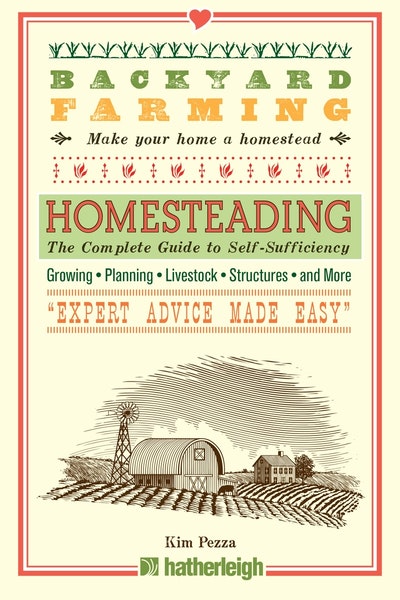 Published:

15 October 2015

ISBN:

9781578265985

Imprint:

Hatherleigh Press

Format:

Trade Paperback

Pages:

160

RRP:

$9.99
Backyard Farming
Raising Pigs
---
---
---
Backyard Farming: Raising Pigs is the perfect guide for beginners thinking about including pigs to their sustainable homestead. Covering every topic from selecting and maintaining a breed, to the tools and space you'll need, to all the wonderful benefits that owning pigs can provide, Backyard Farming: Raising Pigs includes all that you need to know to get the most out of your new swineherd. Including time-tested tips and tricks used by expert farmers, this invaluable resource is a must-have for anyone looking to raise pigs at home!
Your Backyard Farming Experience Begins Here!
Join the Backyard Farming Movement and Turn Your Home into a Homestead!

Backyard Farming: Homesteading is your all-in-one guide to successfully turning your rural property, suburban home, or urban dwelling into a productive food oasis. Covering every topic from finding and developing the perfect property, as well as which produce and livestock combinations are easiest to start with, Homesteading takes the anxiety and guesswork out of enjoying the backyard farming revolution.
Whether you have 100 acres of open land or just a small backyard or apartment terrace, Homesteading is the comprehensive primer for anyone looking to grow their own food. Including detailed instructions and informative photographs that help ensure your backyard farm is everything you want it to be, Homesteading walks you step by step through the process of planning and implementing your sustainable lifestyle.
With Homesteading, you will:
• Learn what to look for when considering properties for backyard farming
• Learn how to develop the property you already own into a homestead, regardless of size and space
• Find out which varieties of produce and livestock are easiest for a beginner
• Learn how to preserve your harvest
• Discover a variety of delicious recipes using produce from your own farm
...and many more tips to help you achieve success.
More than ever, people everywhere are making a return to the farming lifestyle: Homestreading is your first big step to joining the growing movement of these homemakers looking to a healthier, happier way of life—and it starts right in your own backyard.
Backyard Farming is a series of easy-to-use guides to help urban, suburban, and rural dwellers turn their homes into homesteads. Whether planning to grow food for the family or for sale at the local farmers market, Backyard Farming provides simple instruction and essential information in a convenient reference.
Published:

15 October 2015

ISBN:

9781578265985

Imprint:

Hatherleigh Press

Format:

Trade Paperback

Pages:

160

RRP:

$9.99