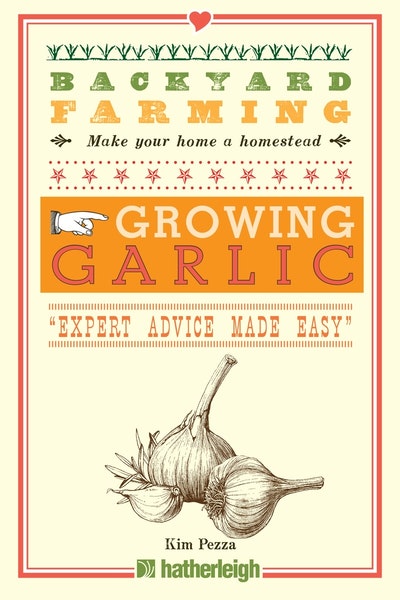 Published:

15 October 2014

ISBN:

9781578265084

Imprint:

Hatherleigh Press

Format:

Trade Paperback

Pages:

128

RRP:

$9.99
Backyard Farming
Growing Herbs For Food And Medicine
---
---
---
Backyard Farming: Growing Garlic is the ideal resource for the new farmer just starting out, providing a simple and comprehensive how-to guide for anyone interested in growing garlic for their backyard farm!
Backyard Farming: Growing Garlic is the perfect guide for beginners looking to cultivate and include garlic to their homestead's produce. Covering every topic from knowing when to plant, to reconizing common pests and diseases, to cooking and prepaering garlic for its healing properties, Growing Garlic includes all that you need to know to get the most out of your new crop. Including time-tested tips and tricks used by expert farmers, this invaluable resource is a must-have for anyone looking to grow garlic on their own.
Series Overview: The Backyard Farming series offers easy-to-use guides to help first-time farmers and homesteaders experience the satisfaction that comes from producing their own food. Rural areas with acres of land, suburban neighborhoods with small backyards, or urban environments with limited space-no matter what your situation, these books are tailored to your unique needs and resources. Each volume in this series is dedicated to a particular topic in backyard farming, whether you're planning to grow food for your family or for sale at your local farmers market. Featuring simple instructions and helpful illustrations, the Backyard Farming series empowers you and your family to enjoy the freshest ingredients possible-direct from your own backyard!
Published:

15 October 2014

ISBN:

9781578265084

Imprint:

Hatherleigh Press

Format:

Trade Paperback

Pages:

128

RRP:

$9.99