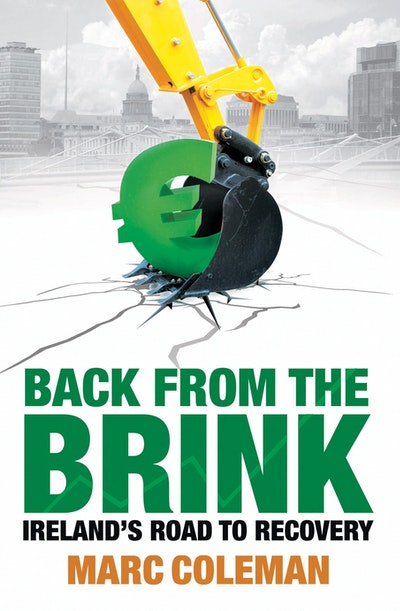 Published:

1 July 2010

ISBN:

9781409091097

Imprint:

Transworld Digital

Format:

EBook

Pages:

336
Back From The Brink
Ireland's Road to Recovery
---
---
Newstalk's Economic Editor, Marc Coleman, creates a fix-it manual for the future in a powerful and accessible argument for Ireland's imminent economic recovery.
We're in the midst of a global economic crisis and a domestic economic disaster. But enough of the hand-wringing. Where did this all come from, where are we now and, most importantly, what's going to happen next?
In a compelling and jargon-free argument, economist Marc Coleman makes sense of this mess we're in with clear, accessible analysis of Ireland's economic situation and where it might be heading. Addressing first the global dimension – how early warnings were ignored, why American monetary policy failed the world and why an unfinished revolution in globalisation left us defenceless – Coleman makes a case for a new kind of capitalism.
The unravelling threads that created the Irish financial crisis are also untangled. The death of competitiveness, the mismanagement of tax revenues, issues of demographics, bad urban planning, stupid banks and an unsuccessful regulator are all examined and, combined with dysfunctional politics, are shown to be the root causes of the predicament we now find ourselves in.
But all is not lost.
With a positive, can-do approach to the economic crisis, Coleman creates a fix-it manual for the future, explaining how Ireland can prosper again by adopting a smart economy, reforming social partnership and curing a warped fiscal cycle with budgetary and electoral reform. Ireland's economic nightmare will end. It is a dream not destroyed, merely delayed.
Published:

1 July 2010

ISBN:

9781409091097

Imprint:

Transworld Digital

Format:

EBook

Pages:

336