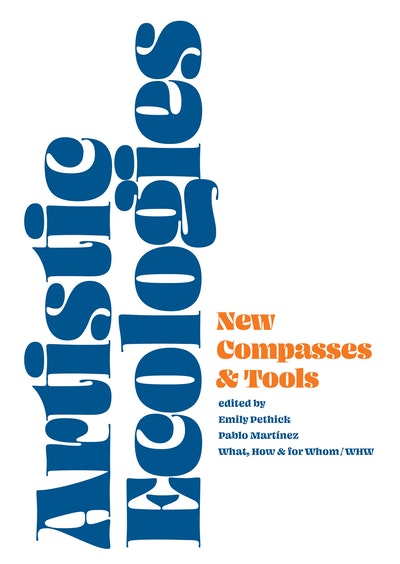 Published:

20 September 2022

ISBN:

9783956796333

Imprint:

MIT Press

Format:

Paperback

Pages:

256

RRP:

$69.99
Artistic Ecologies
New Compasses and Tools
---
---
An inquiry into the current ways of knowing, their ramifications, and institutional and noninstitutional artistic practices that provide channels for education from below.
Artistic Ecologies: New Compasses and Tools aims to both analyze and speculate about potentials of artistic ecologies, collective learning, and engaged pedagogies to engender new institutionalities.
Going beyond tensions between individuals and institutions, Artistic Ecologies examines avenues for collective learning. If learning for life is emancipation—understood not just as a matter of power but of freedom—the essential question that emerges is: What knowledge makes us free and how can institutions help produce it? In search of an answer, this publication's textual and visual contributions explore sites and practices through which new institutionalities can emerge.
Artistic Ecologies comprises essays analyzing current ways of knowing and their ramifications (Marina Garcés, Yayo Herrero and Pirate Care) and portraying alternative ways of forming knowledge through institutional and non-institutional artistic practices (DAAR—Decolonizing Architecture Art Research, Yael Davids, Max Jorge Hinderer Cruz, The Sensing Salon). Artistic contributions in various formats—poems, drawings, visual essays—by Luna Acosta, CAConrads, Eva Ďurovec, Teuta Gatolin, Margherita Isola, and Jammers illustrate heterodox channels for questioning the dominant forms of knowledge and educating from below.
Published:

20 September 2022

ISBN:

9783956796333

Imprint:

MIT Press

Format:

Paperback

Pages:

256

RRP:

$69.99