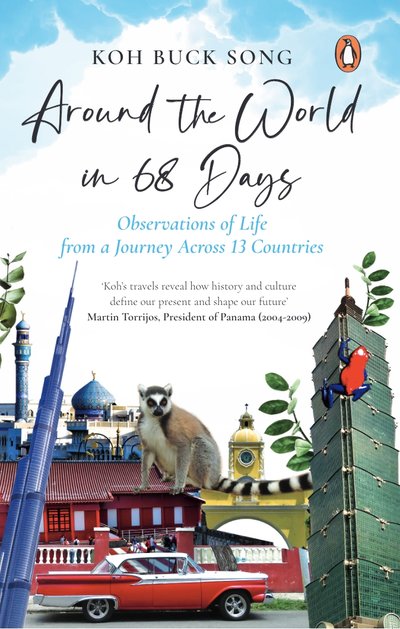 Published:

26 August 2021

ISBN:

9789814882231

Imprint:

PRH SEA

Format:

Paperback

Pages:

340

RRP:

$27.99
Around the World in 68 Days
Observations of life from a journey across 13 countries
---
---
Insights into thirteen countries' ancient and modern cultures, their national identities and nation brands, and their place in the world today.
Around The World In 68 Days is a travelogue with a big difference - not about how to get there, what to see or where to dine, but instead, seeking to glean insights into the meaning of life and the true nature of human societies, using the lens of the brand attributes of each territory to look more clearly into the kaleidoscope of humanity. In a time of a global pandemic, this is also a type of memoir, a tribute to travel, of a pre-Covid-19 world. This is like a 68-day extravaganza of ichigo ichie, the Japanese concept of cherishing every worthwhile moment.
Singaporean writer Koh Buck Song - author and editor of more than 30 books - distils the quintessential brand essence of very different cultures in 13 countries across four continents. He draws from his experience and perspectives as a country brand adviser, advocate of liveable and sustainable cities, and commentator on society and public policy. Koh, also a poet and artist, opens each chapter with his own haiga artwork of a haiku poem with an ink sketch. These artworks complement this book's effort to capture and interpret shared humanity across the globe - what makes each of us unique, what we share, and how, in the end, perhaps we're all really chasing ultimately similar dreams.
Published:

26 August 2021

ISBN:

9789814882231

Imprint:

PRH SEA

Format:

Paperback

Pages:

340

RRP:

$27.99