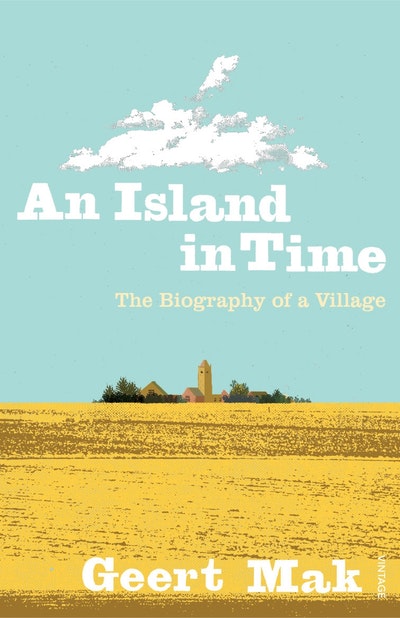 Published:

15 September 2010

ISBN:

9780099546863

Imprint:

Vintage

Format:

Paperback

Pages:

304

RRP:

$24.99
An Island in Time
The Biography of a Village
---
---
A fascinating account of the life and charming inhabitants of a typical countryside village, and how it must adapt and change in order to survive in the modern world.
The countryside is in crisis. The shops are closing down in the villages, there is no school for miles around and, when they grow up, the few remaining children will escape to a less arduous life in the city. The village as we have known it for centuries must adapt to survive, but what will be lost in the process?
In this book Geert Mak returns to the small Frisian village of his childhood, Jorwerd (pop. 330 and falling), and meets the present-day Jorwerders: a stubborn, stoic people for whom the flat, windswept landscape has been a source of livelihood for generations, but is now rarely more than a tourist attraction. He has tea with the butcher's wife, drops in on the pub for a beer, and recounts the stirring story of Old Peet, a farmhand who was born, lived and died in Jorwerd. Such men are an extinct species in the new free-market Europe and, with his passing, the village he lived in moved a step along the road of terminal decline. Jorwerd is not an isolated case. It is a paradigm for the changing face of the countryside everywhere in Europe. It has more in common with an English village than it has with the Dutch city of Amsterdam.
Is progress always a good thing, or is modernity destroying those social values that once underpinned all our lives? Despite its travails, in Jorwerd Mak discovers a neighbourliness and sense of community that no longer exist in urban life, while ancient families struggle to preserve their long-established modus vivendi in a world obsessed with money and profit.
Published:

15 September 2010

ISBN:

9780099546863

Imprint:

Vintage

Format:

Paperback

Pages:

304

RRP:

$24.99
Praise for An Island in Time
Movingly relevant

Irish Times
Nowhere has the silent rural revolution been described more beautifully and with mroe feeling.

Volkskrant
This book is not just about Jorwerd, it is about all the villages in the world, the oldest community known to man, where all our ancestors, our collective memories, our highest values and most beautiful stories originate.

NRC Handelsblad
Mak is good on the pulse of the village, its ebb and flow as people come and go, but running throughout the book is a genuine anger that this is a meritorious way of life we are too eager to dismiss.

Lesley McDowell, Independent of Sunday
a big subject, neatly summarized, in which he also studies the changes in people's values that take place when they move to big cities, and the role now played by incomers in village life.

Alastair Mabbott, Herald
Eloquent

Guardian