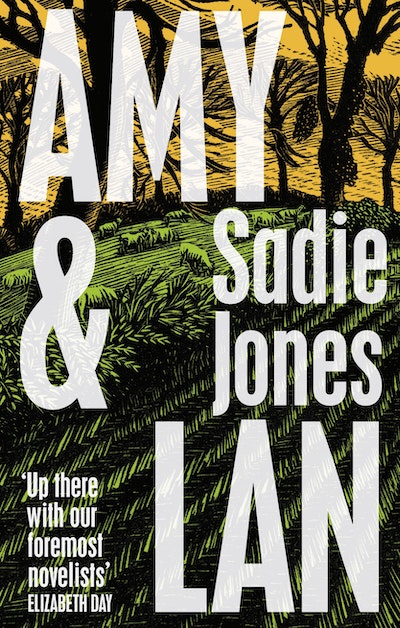 Published:

19 July 2022

ISBN:

9781784744823

Imprint:

Chatto & Windus

Format:

Trade Paperback

Pages:

320

RRP:

$29.99
Amy and Lan
The Enchanting New Novel by the No. 1 Bestselling Author of The Outcast
---
---
---
How did the Simple Life get so complicated? A child's-eye view of family and farming in the compelling new novel from Sadie Jones.
*Picked by the Guardian as a summer 2022 read*
'Fabulous: vivid and funny, sometimes heart-rendingly sad' Guardian
'No one conjures the magic of place like Sadie Jones... A beautiful, haunting novel about the limits of love and the loss of innocence' Clare Clark
'Enchanting, funny and layered in pathos... Sadie Jones' unusual take on the rural dream is a gift of a book' Sarah Langford
____________________
This is the story of how we came to Frith. And we're never, ever, ever leaving.'
Amy Connell and Lan Honey are having the best childhood, growing up on a West Country farm - three families, a couple of lodgers, goats, dogs and an orphaned calf called Gabriella Christmas.
The parents are best friends too. Originally from the city, they're learning about farming: growing their own vegetables, milking the goats, slaughtering chickens and scything the hay--
'Mind your eyes! Don't break your neck! Careful!'

The adults are far too busy to keep an eye on Amy and Lan, and Amy and Lan would never tell them about climbing on the high barn roof, or what happened with the axe that time, any more than their parents would tellthem the things they get up to - adult things, like betrayal - that threaten to bring the whole fragile idyll tumbling down...
'A gently episodic and humorous tale whose sharp-eyed, effervescent child narrators entertain... Beguilingly readable' Daily Mail
Published:

19 July 2022

ISBN:

9781784744823

Imprint:

Chatto & Windus

Format:

Trade Paperback

Pages:

320

RRP:

$29.99
Alive with the wonders of seasonal changes and the thrum of farm life, Amy and Lan will make you cry. Complex, beautifully written and true. I loved this book

Monique Roffey, author of THE MERMAID OF BLACK CONCH
Sadie Jones is a consummate novelist of the modern family, in all its mess, cruelties, loyalties, treacheries and tragedies. This child's eye perspective on the 21st century attempt at the Good Life is topical, comical and horrifying. I read it heart in mouth

Amanda Craig, author of THE GOLDEN RULE
I couldn't put it down. Amy and Lan is a love letter to nature, to the seasons, to the ideal of simple living with all its human complications. It's a beautifully evoked story, full of empathy and hope

Esther Freud, author of I COULDN'T LOVE YOU MORE
I loved Amy and Lan: the way parents mess up their children's lives is heartbreaking yet beautifully conveyed. I've long been a Sadie Jones fan but this may be her best yet. Poignant, compelling and brilliant

Mary Lawson, author of A TOWN CALLED SOLACE
Jones brilliantly ventriloquises Amy and her best friend Lan... She conveys their passionate attachment to the freedom of their unconventional upbringing and deep connection to nature

Guardian, *Summer Reads of 2022*
Achingly poignant... This is a novel of quiet beauty, vividly evoking the magnitude of childhood loss and the capacity for hope

Stephanie Merritt, Guardian
Jones's fictional landscape is jam-packed, abundant, and her smallholding as thick with intrigue as the Borgias' court... I don't think I've read another recent novel that better captures the pure sugar-rush of childhood; the sense of a life so exhilarating and ecstatic that it is almost too much to bear

Xan Brooks, Guardian