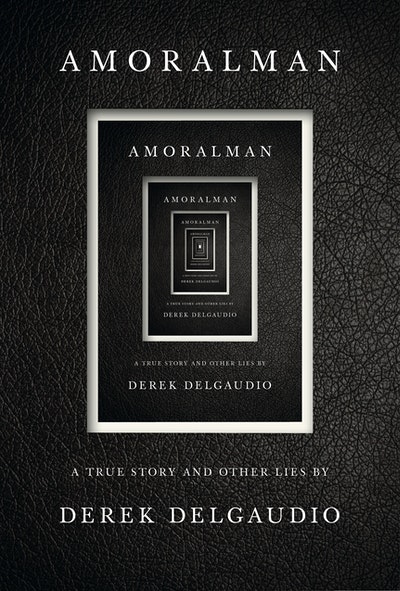 Published:

18 May 2021

ISBN:

9780525658559

Imprint:

Knopf US

Format:

Hardback

Pages:

256

RRP:

$42.99
AMORALMAN
A True Story and Other Lies
---
---
---
A thought-provoking and brilliantly entertaining work of nonfiction, from one of the most acclaimed conjurors and gifted sleight-of-hand artists in a generation, the creator and star of the astonishing one-man show, In and of Itself.
Conscious of his own rather mind-boggling ability to deceive others professionally, Derek DelGaudio believed that the artifice in his life was always reserved exclusively for the stage. But when irrefutable evidence to the contrary is found in an old journal, Derek is forced to question his ability to see through an illusion, something he trained his whole life to do.
Using his youthful notebook entries as a roadmap, DelGaudio embarks on a soulful, often funny, sometimes dark journey through his own past, stopping at the significant signposts that led him into the heart of a world populated by swindlers, con artists and card cheats. As stories are peeled away and deceptions are revealed, Derek discovers the meaning of the mystery behind his father's vanishing act; the deep need, inherited from his mother, to keep secrets; the urge to create stories that could keep cruel schoolmates and a judgmental church at bay; the obsession he developed with illusions and sleight-of-hand that shaped his future; and the attraction he felt for the charismatic criminal who taught him how to use his talents to deceive, cheat and steal. It all leads to a period in his life where he becomes the crooked dealer in a big money Hollywood card game, where he begins to question his own sense of morality, reexamine his relationship with truths and lies, and uncovers a secret he has managed to keep even from himself.
Amoralman is alternatingly tender, thrilling, and hilarious; a wildly engaging exploration of the nature of fact versus fiction, a book about the lies we tell ourselves and the truths we manufacture in others, and shows how even a master of deception can find himself trapped inside of an illusion.
Published:

18 May 2021

ISBN:

9780525658559

Imprint:

Knopf US

Format:

Hardback

Pages:

256

RRP:

$42.99