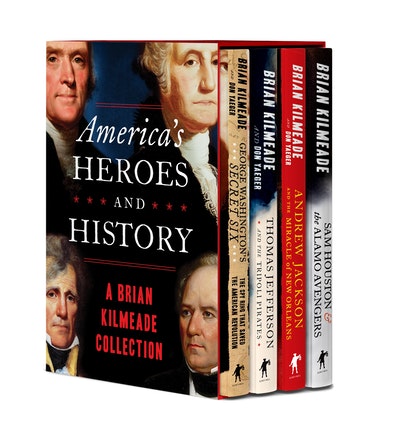 Published:

2 November 2021

ISBN:

9780593421178

Imprint:

Sentinel

Format:

Paperback

RRP:

$140.00
America's Heroes and History
A Brian Kilmeade Collection
---
---
Now available for the first time in a beautiful boxed set edition, Brian Kilmeade's extraordinary New York Times bestsellers George Washington's Secret Six, Thomas Jefferson and the Tripoli Pirates, Andrew Jackson and the Miracle of New Orleans, and Sam Houston and the Alamo Avengers.
We cannot understand our future without honoring our past. Brian Kilmeade helps us do just that as he brings alive some of the most pivotal moments in American history to a new generation of readers. Now with his bestselling books all in one place, you can revisit the excitement of these almost forgotten slices of history time and time again.
In the fast-paced, page-turning style millions of readers have come to know and love, America's Heroes and History is atimeless collection that promises a thrilling ride through the annals of history—from George Washington's top-secret spy mission to infiltrate the British military, to Thomas Jefferson's heroic stand against plundering Muslim pirates, to Andrew Jackson's miraculous battle to blast open the road to western expansion, to Sam Houston's pulse-pounding fight for Texas at the Alamo.
For everyone who is proud of our American heritage and who wants to learn more about the history that forged this nation into the land of the free, the Brian Kilmeade collection is finally here.

Published:

2 November 2021

ISBN:

9780593421178

Imprint:

Sentinel

Format:

Paperback

RRP:

$140.00