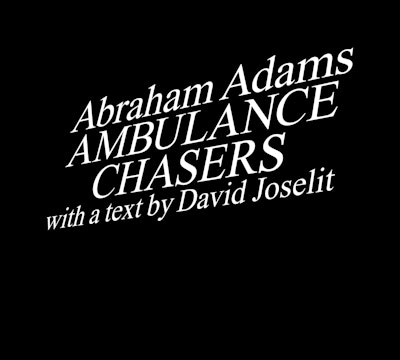 Published:

18 October 2022

ISBN:

9780262047104

Imprint:

MIT Press

Format:

Hardback

Pages:

136

RRP:

$79.99
Ambulance Chasers
---
---
A series of photographic diptychs that investigate the behavior of images and offer an account of American precarity.
Ambulance Chasers offers a series of photographic diptychs by the artist Abraham Adams: on the left, the faces of personal injury lawyers photographed from roadside billboards; on the right, the landscapes they survey. The gesture is a double rotation: each photograph is imagined as the spectator of the other, and in each pairing, the exorbitant promises of the animated lawyers are deflated by their juxtaposition with an often featureless roadside landscape. The ambulance chasers smile, grin, grimace, scowl; their hair is neatly coiffed, slicked back, unnaturally dark. They gaze at country roads, busy highways, empty intersections, blue skies, building sites, and parking lots. They offer assistance—at a price. Adams's conceptual performance and art historian David Joselit's text tell a story of American precarity.
Joselit's text unrolls alongside the photographs like a long, broken caption. Adams and Joselit conceived their collaboration as an investigation of the behavior and poetics of images—both in the world as billboards and in the book as reproductions—in a visual and textual language quite different from standard theoretical texts. In a long interview, they explore the project's aesthetic and historical concerns, focusing on its hybridization of typologies central to post–World War II photography—the conceptual catalogs best exemplified by the work of Bernd and Hilla Becher and their students, and the "anti-heroic" American landscape, as charted by artists ranging from Ed Ruscha to Lewis Baltz and Robert Adams.

Published:

18 October 2022

ISBN:

9780262047104

Imprint:

MIT Press

Format:

Hardback

Pages:

136

RRP:

$79.99