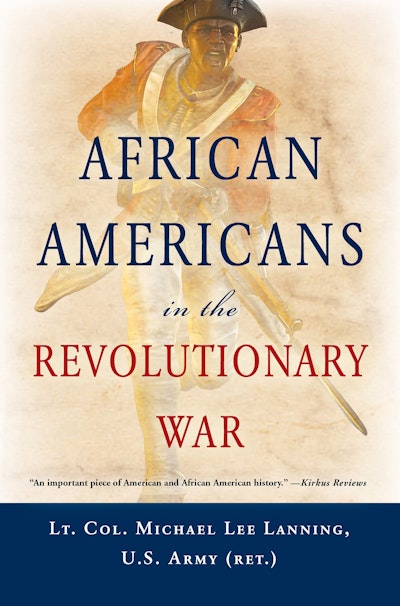 Published:

1 March 2022

ISBN:

9780806541167

Imprint:

Kensington

Format:

Paperback

Pages:

256

RRP:

$26.99
African Americans in the Revolutionary War
---
---
In this enlightening and informative work, military historian and author Lt. Col. Michael Lee Lanning reveals the under-acknowledged, critical, and heroic role both enslaved and free African Americans played in the American Revolution while serving – despite racism – in integrated units. An invaluable perspective for readers of American history, military history—and for all Americans as discrimination remains a central issue.

At first, neither George Washington nor the Continental Congress approved of enlisting African Americans in the new army. Nevertheless, Black men—both slave and free—filled the ranks and served in all of the early battles. Black sailors also saw action in every major naval battle of the Revolution, including members of John Paul Jones's crew aboard the Bonhomme Richard. At least thirteen Black Americans served in the newly formed U.S. Marine Corps during the war.
Bravery among African Americans was commonplace, as recognized by their commanders and state governments, and their bravery is recorded here in the stories of citizen Crispus Attucks at the Boston Massacre; militiaman Price Esterbrook at Lexington Green; soldier Salem Poor at Bunker Hill; and marine John Martin aboard the brig Reprisal.
As interest in colonial history enjoys renewed popularity due to works like Hamilton, and the issues of prejudice and discrimination remain at the forefront of our times, African Americans in the Revolutionary War offers an invaluable perspective on a crucial topic that touches the lives of Americans of every color and background.

Published:

1 March 2022

ISBN:

9780806541167

Imprint:

Kensington

Format:

Paperback

Pages:

256

RRP:

$26.99