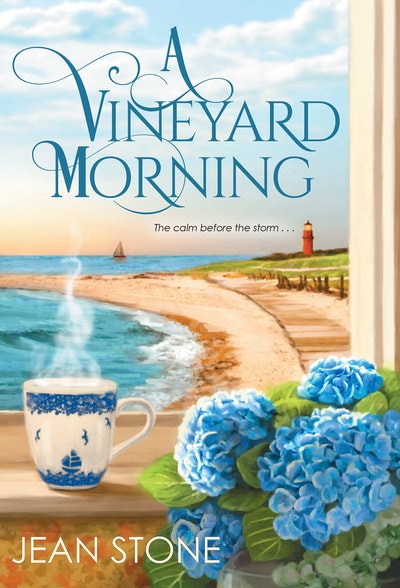 Published:

19 April 2021

ISBN:

9781496728838

Imprint:

Kensington

Format:

Paperback

Pages:

320

RRP:

$29.99
A Vineyard Morning
---
---
Life is usually quiet during the off-season on Martha's Vineyard. But not for island newbie and bestselling novelist Annie Sutton...
Finally settled into her adopted island home, Annie is looking forward to writing her next mystery, making soap for her new business, and starting renovations on the Inn she plans to open by the summer. She's also enjoying spending more time with local police sergeant John Lyons, the man she's only just gotten comfortable calling her boyfriend. She's even starting to relish her relationship with John's teenaged daughter, Lucy. It's probably not the best moment for a visit from the biological mother Annie only recently met. Still, it's high time she got to know the mysterious Donna MacNeish...
But Donna's visit isn't merely a social call--she's come to share some devastating news. Seeking solace in an outing with Lucy, Annie and the teen stumble upon skeletal remains on the Inn's property, a finding that calls a halt to all construction while the police investigate. Desperate for answers, Annie starts asking questions of her own. But when secrets about her own past bring shattering revelations, suddenly everything Annie understands about love and loyalty is tested--and she wonders if the ties that bind her to her beloved community will reach a breaking point...
Published:

19 April 2021

ISBN:

9781496728838

Imprint:

Kensington

Format:

Paperback

Pages:

320

RRP:

$29.99
Praise for A Vineyard Morning
Praise for A Vineyard Summer: "Filled with heart….Perfect for long summer days. For fans of Debbie Macomber or Elin Hilderbrand."  —Booklist "Lie down on the couch, put a pillow under your head and enjoy the ride." —The Vineyard Gazette Praise for Jean Stone's A Vineyard Christmas: "Annie Sutton is finally realizing her dream of living on Martha's Vineyard, when a surprise package is left outside her cottage door….a baby in a basket. The diverse characters, strong setting, and clever mystery surrounding baby Bella brims with holiday cheer readers will relish."  —Library Journal "A successful novelist finds herself in the middle of a mystery fit for the plot of one of her books in this holiday story….A Vineyard Christmas is charming and sincere; Stone's fans will not be disappointed by her newest effort."  —Booklist Praise for the previous works of Jean Stone:    "Stone's graceful prose, vivid imagery and compassionately drawn characters make this one a standout."  —Publishers Weekly  "Stone is a talented novelist whose elegant prose brings the Martha's Vineyard setting vividly to life. . . . A very good read." —Milwaukee Journal Sentinel    "A wrenching and emotionally complex story.  Sometimes, if you are very lucky, you can build a bridge across all obstacles. A very touching read."  —RT Book Reviews