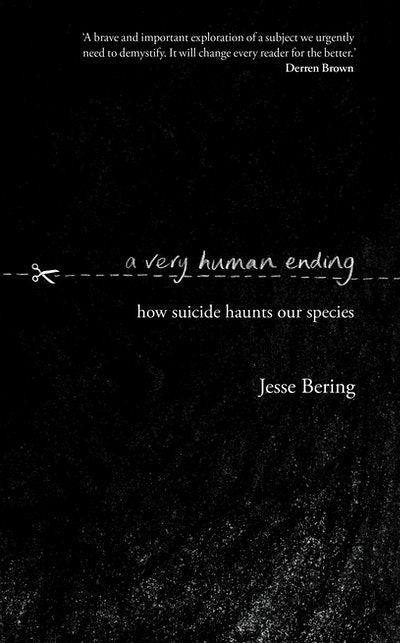 Published:

15 September 2018

ISBN:

9780857524515

Imprint:

Doubleday

Format:

Hardback

Pages:

288

RRP:

$35.00
A Very Human Ending
How suicide haunts our species
---
---
---
A meditation on the human tendency to end our own lives, by an author who brings his own experience of depression to bear on this rarely discussed subject.
'This book touches on some deep questions relevant to us all... A fascinating, thoughtful, unflinching meditation on one of the most intriguing and curious aspects of the human condition.' - Dr Frank Tallis
Why do people want to kill themselves? Despite the prevalence of suicide in the developed world, it's a question most of us fail to ask. On hearing news of a suicide we are devastated, but overwhelmingly we feel disbelief.
In A Very Human Ending, research psychologist Jesse Bering lifts the lid on this taboo subject, examining the suicidal mindset from the inside out to reveal the subtle tricks the mind can play when we're easy emotional prey. In raising challenging questions Bering tests our contradictory superstitions about the act itself.
Combining cutting-edge research with investigative journalism and first-person testimony, Bering also addresses the history of suicide and its evolutionary inheritance to offer a personal, accessible, yet scientifically sound examination of why we are the only species on earth that deliberately ends its own life.
This penetrating analysis aims to demystify a subject that knows no cultural or demographic boundaries.
Published:

15 September 2018

ISBN:

9780857524515

Imprint:

Doubleday

Format:

Hardback

Pages:

288

RRP:

$35.00
Praise for A Very Human Ending
Jesse Bering asks the questions no one else dares, he tells truths that others shy away from, and he writes the books that I wish I had written. To me, he is everything a great scientist and communicator should be. Suicide may be an uncomfortable subject yet the escalating numbers of people who take their lives each year means we must make it's unravelling our priority. I have no doubt this book will have a profound impact on all who read it, and add considerably to our understanding of that self-willed oblivion, whether it lies palpably just beneath our own skin, or the skins of those we love. But perhaps most importantly of all it will help dispel the stigma and shame that so perniciously clings to all suicides.

Dr Christian Jessen
A brave and important exploration of a subject we urgently need to demystify. It will change every reader for the better.

Derren Brown
Bering's book touches upon some deep questions relevant to all of us. Indeed, it is as much about what makes us uniquely human as it is about suicide. A Very Human Ending transcends its own objectives. It is a fascinating, thoughtful, unflinching meditation on one of the most intriguing and curious aspects of the human condition.

Dr Frank Tallis, clinical psychologist, Evening Standard
I'm not surprised that a book on suicide would be very personal, but I didn't expect it to be so damn funny. It's also engaging, thoughtful, and sensitive – although Bering is certainly irreverent, there is a real appreciation of how painful and difficult this topic can be. This is a book for scholars and for a general audience, but it is also entirely suitable for people whose lives have been touched by the suicide of someone they loved.

</i>Paul Bloom, Professor of Psychology at Yale University and author of <i>Against Empathy
I have yet to come away from reading [Bering's] work and not feel considerably better informed than I was just minutes before

Forbes
A coherent, relevant look at the psychological secrets of suicide... a fascinating study featuring some startling real-time facts and perspectives on a sadly enduring phenomenon. For such a fiercely complex subject with varying nuances, viewpoints, and interpretations, Bering imparts accessible information through an affable, conversational tone. This important book arms readers with contemporary insight to help "short-circuit the powerful impetus to die when things look calamitous." Bering illuminates a murky, misunderstood human quandary with compassion, confessional honesty, and academic perception.

Kirkus
Compelling... This isn't just a mix of statistics, academic arguments and moving case studies. Bering also writes from the inside as one who, since his teenage years, has at times felt the "call to oblivion". Bering's remit is broad and he builds towards his conclusions on a solid basis of research that throws up some arresting statistics. He labours not just to size up what remains an epidemic shrouded in silence and shame, but also to suggest ways forward.

Guardian
Sadly, the mass of men lead lives of quiet desperation, our minds forever pulling us into dark forests. But there are numerous stages at which we can step off that path before it's too late. Drawing on research evidence and the world around us, Bering signposts and, we can hope, saves.

Dr Jon Sutton, </i> editor of <i>The Psychologist
Suicide is one of the toughest subjects to write about, and psychologist Jesse Bering does it with candor, scientific integrity and genuine empathy. A Very Human Ending is a vital book - informative, engaging and enlightening despite its dark subject matter.

Scott Neuffer, Shelf Awareness
Highly enlightening... Bering carefully balances his avid curiosity with deep compassion in this look at how suicidal urges work. Throughout, Bering treats his sources with unvarying respect, as well as a spirit of affiliation. Readers who have experienced the anguish of suicidal impulses will find his work both heartening and deeply illuminating.

Publishers Weekly
Why do more than a million people a year kill themselves? To answer this question we need a brilliant research scientist, an insightful psychologist, and a sensitive but powerful writer who has seriously contemplated taking their own life. Jesse Bering fits all three criteria and this book is a deeply moving narrative that cuts to the heart of the ultimate question any of us could ever ask: why should I live? Given what's at stake in the topic, A Very Human Ending may very well be the most important book you will ever read.

</i>Michael Shermer, monthly columnist for <i>Scientific American</i> and author of <i>The Believing Brain, The Moral Arc </i>and <i>Heavens on Earth
Jesse Bering explores one of the most essential questions we all face: Why keep living? He doesn't claim to have found any easy answers, but his exploration is surprising, funny, touching, and deeply personal. A Very Human Ending feels like a gift, and reading it reminded me that encounters with great books are reason enough, for now, to keep going.

</i>Christopher Ryan, author of <i>Tangentially Reading </i>and <i>Sex at Dawn
Jesse Bering is the best science writer at work today.

Dan Savage
A necessary contribution to the demystification of a subject still under discussed, Bering's book is wise, warm and sure to encourage conversation

Irish Times