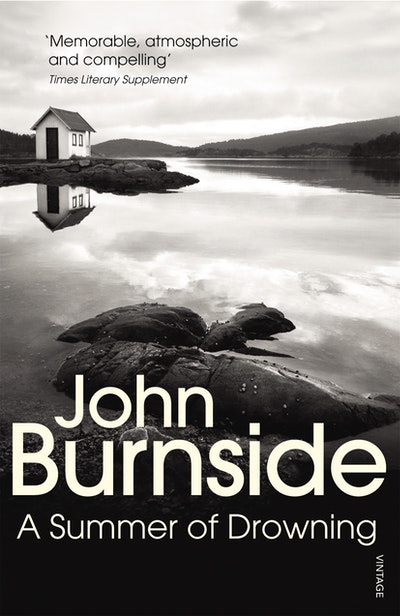 Published:

15 June 2012

ISBN:

9780099422372

Imprint:

Vintage

Format:

Paperback

Pages:

336

RRP:

$22.99
A Summer of Drowning
---
---
A terrifying and dream-like new novel from one of our greatest contemporary writers.
A young girl, Liv, lives with her mother on a remote island in the Arctic Circle. Her only friend is an old man who beguiles her with tales of trolls, mermaids, and the huldra, a wild spirit who appears as an irresistably beautiful girl, to tempt young men to danger and death. Then two boys drown within weeks of each other under mysterious circumstances, in the still, moonlit waters off the shores of Liv's home.
Were the deaths accidental or were the boys lured to their doom by a malevolent spirit?
Published:

15 June 2012

ISBN:

9780099422372

Imprint:

Vintage

Format:

Paperback

Pages:

336

RRP:

$22.99
Praise for A Summer of Drowning
It's very, very rare for a writer to be equally good at poems and novels. John Burnside is. He's a brilliant poet, a brilliant memoirist, and a brilliant novelist ... breathtakingly good

Christina Patterson, Independent
The most defining aspect of Burnside's work aside from its linguistic exactness is the beauty of his prose. Quite simply, he is a wonderful writer. Whatever he is writing always seems real and, considering much of the content of this new novel, that is a considerable asset for any storyteller

Eileen Battersby, Irish Times
Burnside allows the ambiguity to remain in a hauntingly memorable book

Nick Rennison, Sunday Times
In this beautifully sustained novel madness, mystery and myth-making collide. Burnside has an eerie attunement to the ineffable nature of existence and the fictions we construct to navigate and explain it

Adam O'Riordan, Financial Times
The novel invites you to view storytelling as akin to madness...In a book that often makes coded reference to itself to provoke serious thought as to what fiction is about, this counts as a joke. Its evasions may discomfit those who like to know exactly where they stand, but those who enjoy being teased as well as spooked should relish an eerie, ethereal novel that alludes to Lewis Carroll and uses methods of Hitchcock and David Lynch

Daily Telegraph
Memorable, atmospheric and compelling

Tim Souster, Times Literary Supplement
A beautiful and haunting book...A charming and deeply imaginative novel

Aesthetica
Lyrical in his descriptions on the land of the midnight sun

Clare Colvin, Daily Mail
Burnside's prose has been frequently praised for its clarity, poetic sonority and fine cadences. It is certainly so here ... A Summer of Drowning marries philosophical meditation with the gooseflesh verve of a thriller

Stuart Kelly, Scotland on Sunday
Burnside is an accomplished and careful writer. And this is a beautiful book, compelling and strange

Margaret Reynolds, The Times
Unsettling, hauntingly memorable tale

Sunday Times
Written with deceptive elegance, riddled with gaps and non sequiturs and a clever travesty of several genres, this is a disturbing, provocative book'

Guardian
[A Summer of Drowning] brings an eerie glow to the colours and sounds, flora and foodstuffs of the far north

Justine Jordan, Guardian
It's very, very rare for a writer to be equally good at poems and novels. John Burnside is. He's a brilliant poet, a brilliant memoirist, and a brilliant novelist ... There are, says Liv, "two kinds of seeing". One is about finding "what we have always been told is there". The other is about going "out alone in the world", like "a boy going out into the fields, or along the shore" who finds that "something creeps in at the edge of his vision". John Burnside is breathtakingly good at both

Christina Patterson, Independent