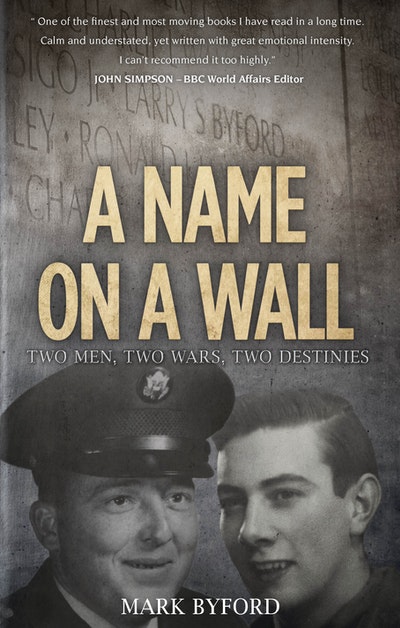 Published:

7 November 2013

ISBN:

9781780578286

Imprint:

Mainstream Digital

Format:

EBook

Pages:

304
A Name on a Wall
Two Men, Two Wars, Two Destinies
---
---
A unique book about duty, heroism and fate and the lasting legacy, 45 years on, of America's most divisive war of the twentieth century
An unusual coincidence occurred early one morning at the most visited war memorial in the United States as a shaft of sunlight hit one of the 58,282 names on the Vietnam Veterans Memorial. The name was Larry Byford.
So begins a unique personal journey to discover the story of the name on the wall. Travelling more than 30,000 miles, from east Texas to Vietnam, Mark Byford learns about the lasting impact on Larry's siblings, friends and the comrades who were there with him on the day he died in the summer of 1967. He pinpoints why that time became the turning point of America's most divisive war of the twentieth century.
A Name on a Wall is a gripping true story that focuses on duty, heroism and fate. We learn not only about the tragic loss of Larry Byford, a draftee rifleman in Vietnam, but also the contrasting war story of the author's own father, Lawry Byford, a draftee from Yorkshire, for whom the Second World War became the springboard for a new life filled with opportunities.
Forty years after the final American combat troops left Vietnam, thirty years after The Wall was built to heal a nation, and in the light of the recent controversial wars in Iraq and Afghanistan, what lessons, if any, have been learnt through the ultimate sacrifice of the name on a wall?
Published:

7 November 2013

ISBN:

9781780578286

Imprint:

Mainstream Digital

Format:

EBook

Pages:

304
Praise for A Name on a Wall
This tale should be compulsory reading for MPs and military leaders and anyone else who might lead us into armed conflict. It raises questions about the morality of war and duty to serve that need constant and rigorous attention. It is also an absorbing and meticulously researched work. I wish I had written anything half as good.

Julian Pettifer
A Name On A Wall – part biography, part chronicle, part history – movingly connects past and present and reconciles the differences that seemingly separate them.

The Telegraph and Argus
One of the finest and most moving books I have read in a long time. It is calm and understated, and yet written with great emotional intensity. I found it hard to think about anything else for days after reading it

John Simpson, BBC world affairs editor
We gaze at the names on war memorials and wonder, and now I know the reason why. This book is meticulous in its research, compelling in its structure. A marvellous book

Sir Michael Parkinson, broadcaster
An extraordinary experience like nothing ever done before in America that I know of. It's important. It matters

Jan Scruggs, founder and president of the Vietnam Veterans Memorial Fund
Quite simply a beautiful book. Mark Byford has a curious nature and a tender heart. I shall never look at a war memorial again without wondering who was the young man whose name is on a wall

Dame Jenni Murray, broadcaster and author
A remarkable story that skilfully knits together heroic family history and the broader sweep of the tragedy of the Vietnam war. So moving and thoughtful, there has been no history of that conflict remotely like this one

Andrew Marr, journalist and broadcaster