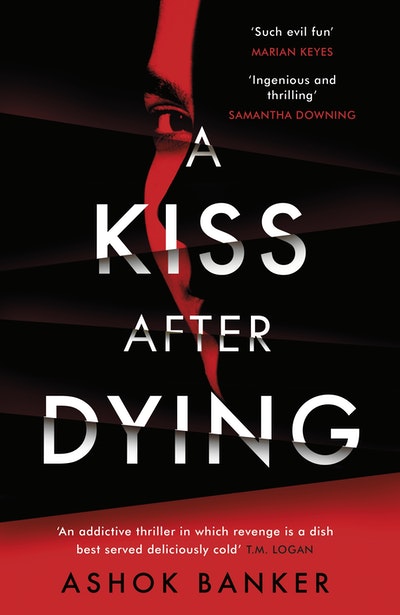 Published:

5 July 2022

ISBN:

9780241510520

Imprint:

Michael Joseph

Format:

Trade Paperback

Pages:

400

RRP:

$32.99
A Kiss After Dying
'An addictive thriller in which revenge is a dish best served deliciously cold' T.M. LOGAN
---
---
---
Utterly compulsive, totally original and with a truly jaw-on-the-floor twist, this is a thriller like no other
Charming and handsome, Ricky Manfredi is living an idyllic playboy life when, out of the blue, he bumps into a shy pretty girl named Hannah.
That's not her real name.
Ricky has always had his pick of women. But when chance brings them together a second time, he finds himself irresistibly drawn in.
Which is exactly how she planned it.
It's not long before, to the surprise of them both, Ricky and Hannah are falling for each other. But Hannah knows that can't be allowed to happen.
Because murder is only the first stage of her plan...
Published:

5 July 2022

ISBN:

9780241510520

Imprint:

Michael Joseph

Format:

Trade Paperback

Pages:

400

RRP:

$32.99
Praise for A Kiss After Dying
A pacy thriller with a kick-ass heroine and a great twist

Trevor Wood, CWA Dagger-winning author of The Man on the Street
A pacy thriller with a kick-ass heroine and a great twist

Trevor Wood, CWA Dagger-winning author of The Man on the Street
I absolutely raced through this - fast-paced and brilliantly twisty, it's going to be a bestseller!

Lisa Hall, bestselling author of Between You and Me
I absolutely raced through this - fast-paced and brilliantly twisty, it's going to be a bestseller!

Lisa Hall, bestselling author of Between You and Me
A super smart and slick revenge thriller that is brilliantly plotted, with an incredible kick-ass female protagonist. I loved this

Sarah Bonner, author of Her Perfect Twin
A super smart and slick revenge thriller that is brilliantly plotted, with an incredible kick-ass female protagonist. I loved this

Sarah Bonner, author of Her Perfect Twin
Ashok Banker is a master at manipulation. Ingenious and thrilling, this novel about family, revenge, and murder will have your head spinning in the best possible way

Samantha Downing
Ashok Banker is a master at manipulation. Ingenious and thrilling, this novel about family, revenge, and murder will have your head spinning in the best possible way

Samantha Downing
Such thrilling, evil fun

Marian Keyes
Such thrilling, evil fun

Marian Keyes
A pulse-racing thriller with jaw-dropping twists and turns, A Kiss After Dying is completely unique from anything else I've read. The action-packed pace and addictive, original rhythm keeps readers on their toes and you won't be able to look away from the shrewd, fascinating characters. This is a sharp, shocking novel I'll never forget

Samantha M. Bailey, USA Today and #1 national bestselling author of Woman On The Edge and Watch Out For Her
A pulse-racing thriller with jaw-dropping twists and turns, A Kiss After Dying is completely unique from anything else I've read. The action-packed pace and addictive, original rhythm keeps readers on their toes and you won't be able to look away from the shrewd, fascinating characters. This is a sharp, shocking novel I'll never forget

Samantha M. Bailey, USA Today and #1 national bestselling author of Woman On The Edge and Watch Out For Her
An addictive, globe-trotting thriller in which revenge is a dish best served deliciously cold

TM Logan
An addictive, globe-trotting thriller in which revenge is a dish best served deliciously cold

TM Logan
A Kiss After Dying is a fast, energetic revenge thriller with a roaring engine and twists for miles. Buckle up for some old-school smiting, where the sins of the father are thoroughly, ruthlessly punished.

Steph Cha, author of Your House Will Pay
A Kiss After Dying is a fast, energetic revenge thriller with a roaring engine and twists for miles. Buckle up for some old-school smiting, where the sins of the father are thoroughly, ruthlessly punished.

Steph Cha, author of Your House Will Pay