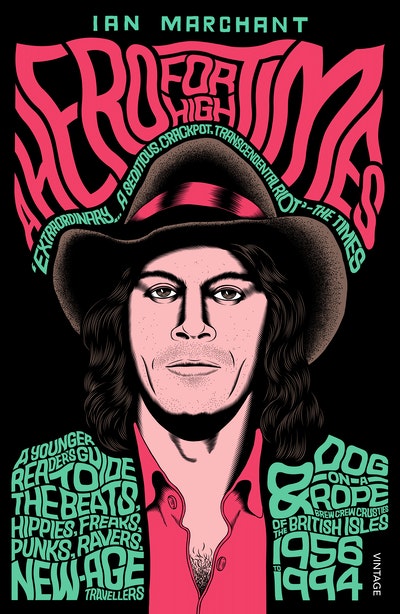 Published:

4 July 2019

ISBN:

9780099575658

Imprint:

Vintage

Format:

Paperback

Pages:

512

RRP:

$22.99
A Hero for High Times
A Younger Reader's Guide to the Beats, Hippies, Freaks, Punks, Ravers, New-Age Travellers and Dog-on-a-Rope Brew Crew Crusties of the British Isles, 1956-1994
---
---
A new history of counterculture in the UK, from the release of Heartbreak Hotel in 1956 to the passing of the Criminal Justice Act in 1994
'My book of the year. Extraordinary' The Times
A new history of counterculture in the UK, from the release of Heartbreak Hotel in 1956 to the passing of the Criminal Justice Act in 1994
Deep in a wood in the Marches of Wales, in an ancient school bus there lives an old man called Bob Rowberry.
A Hero for High Times is the story of how he ended up in this broken-down bus. It's also the story of his times, and the ideas that shaped him. It's a story of why you know your birth sign, why you have friends called Willow, why sex and drugs and rock'n'roll once mattered more than money, why dance music stopped the New-Age Travellers from travelling, and why you need to think twice before taking the brown acid.
It's also a story of friendship between two men, one who did things, and one who thought about things, between theory and practice, between a hippie and a punk, between two gentlemen, no longer in the first flush of youth, who still believe in love.
'This amiable and engaging blog-doc is an Odyssey for elective outsiders' Iain Sinclair, Guardian
Published:

4 July 2019

ISBN:

9780099575658

Imprint:

Vintage

Format:

Paperback

Pages:

512

RRP:

$22.99
Praise for A Hero for High Times
Extraordinary... What a seditious, crackpot, transcendental riot this book is. My book of the year, and it's only February.

Roger Lewis, The Times
Listen carefully, children, to a checklist of the British underground scene... This amiable and engaging blog-doc is an Odyssey for elective outsiders. Here are real monsters and sirens of Soho and Presteigne, legions of the talkative dead, and a great rattletrap camper van voyage carrying us back to the point of origin… A Hero for High Times is Ian Marchant's monumental defence of the alternative way.

Iain Sinclair, Guardian
Infectious... [A] hugely engaging compendium of high ideals, low morals and apeshit behaviour.

John Walsh, Sunday Times
A defiant, funny lament for lost ideals.

The Sun
An up close and personal story of the counterculture... as well as a rumination on the nature of friendship.

Choice Magazine **Pick of the Paperbacks**
A lament for lost hope and a lost radicalism amid the conservatism of the contemporary world.

Teddy Jamieson, Glasgow Herald
Ian Marchant is one of Britain's most remarkable, but under-recognized, writers. He is a true chronicler of the country... You never quite know what he's going to do next, but what you do know is that it will be fascinating, and beautifully written... This, I think, is the book Marchant was born to write: it's a testament, a collection of tall tales that all turn out to be true... It's one of those books that seems to lift off its own pages: it's an enactment of the very thing it describes. It places a whole way of life in context, and becomes, defying chronology, part of that context itself. I can put it no plainer than that

Nicholas Lezard, Dhaka Tribune
Made me laugh

**Books of the Year**, Spectator
A huge, generous, and fascinating study of the counterculture, from its earliest inception to Rave; and much of it seen through the prism of one unlikely survivor from the era

Nicholas Lezard, Best Holiday Reads, Evening Standard