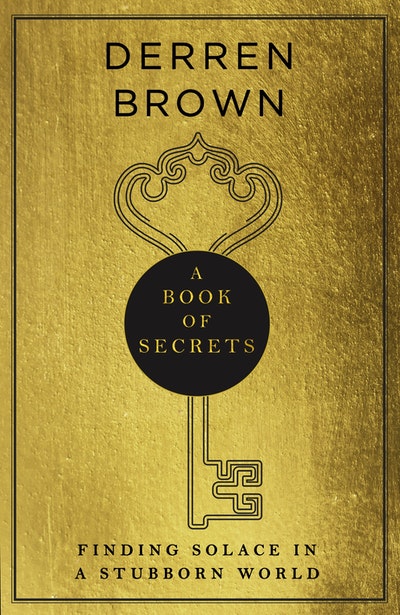 Published:

30 November 2021

ISBN:

9781787633063

Imprint:

Bantam Press

Format:

Trade Paperback

Pages:

384

RRP:

$35.00
A Book of Secrets
Finding Solace in a Stubborn World
---
---
---
The bestselling author of HAPPY and TRICKS OF THE MIND turns his back on the Stoics who informed his last book, in a new wonderfully wise and entertaining exploration of how we best live and grow.
Perhaps being happy is not the answer after all.
Turning his back on the Stoics whose ideas informed his last book, the ever-thoughtful Derren Brown continues his pursuit of what brings meaning to life and how best to muddle through it with reference to some of the world's great philosophers. Beginning with the ideas of Carl Jung and the notion that whatever we might try to hide and bury in our past will always come back to bite us, he has to wonder if the Greeks were right - unless we tend to all aspects of our lives and who we are, the snubbed secreted aspects of ourselves will wreak revenge. Rather than avoid disturbance perhaps it is essential for a healthy life. Perhaps we need to accept and experience complexity. Is anxiety in fact a pointer for growth? Is a good place only good because it sits between the twin pulls of wild happiness and distress? And what is the secret that lies in this good place?
Published:

30 November 2021

ISBN:

9781787633063

Imprint:

Bantam Press

Format:

Trade Paperback

Pages:

384

RRP:

$35.00