A captivating and intriguing new novel to read with your book club.
Broken Bay is an award-winning crime author Margaret Hickey's most recent captivating and mystery-fuelled novel. The book incorporates a varied range of themes that affect and propel the story forward; rural Australian history and landscape, as well as complex personality traits and relationships. These features and more play and important role in binding the plot points together, and are perfect to discuss with your book club.
DISCUSSION POINTS AND QUESTIONS
Broken Bay is a neglected seaside town on the windswept Limestone Coast. Mark Ariti surmises that the sea-changers and their Instagram accounts are 'just around the corner'. Is this true? Are there new Byron Bays emerging all over the southern coast of Australia? 
In this novel, Mark comes to understand that he is not a thrillseeking adventurer. Are people like Mya, Eloise, Rose and the Sinclair brothers rare? Is having an intrepid nature something we are born with?
Discuss the concept of the Gordian Knot. How does Margaret Hickey play with the idea in Broken Bay?
The young waiter who travels to New York claims that Mark Ariti looks like an Anzac, a rugged Australian hero type. The Greek cafe owner claims to know instantly that he is Greek. Does Mark grapple with who he is? Or is he quite content with himself?
Is it possible to grow to believe a lie after many years of telling it? When Gerri thinks she sees Eloise years after her death, she frames it as being almost true. How much can we trust our memories? 
Sinkholes are an amazing feature of the Limestone Coast. Does this book make you want to dive into one, or run as fast as you can to get away? 
Jagdeep continues to be a trusty friend to Mark. Despite their compatibility, they are in some ways opposites. Discuss.
Did Mark make the right decision at the end?
'Guidelines' are a running theme throughout Broken Bay. Who and what are Mark's guidelines? Who and what are yours?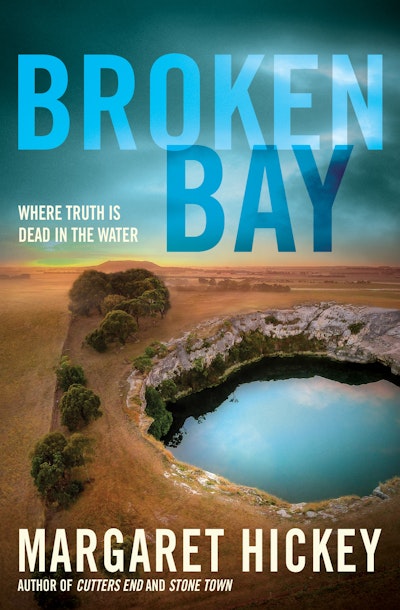 Broken Bay
From the author of the bestselling Cutters End and Stone Town, a captivating new crime novel featuring Detective Mark Ariti.
Read more