This timeless picture book is an action-packed adventure story with a wonderful wind-down-to-bedtime ending. 
Hey Grandude! is Paul McCartney's first picture book and will publish in September 2019.


The story
Meet Grandude, an intrepid explorer grandfather, and his four grandkids. With his magical colourful postcards, Grandude whisks his grandchildren off on incredible adventures. Join them as they ride flying fish, dodge stampedes, and escape avalanches...
It's a wild rollercoaster ride with a twist of magic, and a heartwarming family story, inspired by Paul's own experiences of being a grandfather. Brought to life with funny, colourful illustrations from talented artist Kathryn Durst, this is the perfect picture book for parents, grandparents and their little explorers. 
About the author and illustrator
Paul McCartney's career has been impossibly prolific and singularly influential. In the 1960s, Paul changed the world forever with The Beatles. He didn't stop there, and has continued to push boundaries as a solo artist, with Wings, and collaborating with numerous world-renowned artists. He has received 18 Grammys, and in 1996 was knighted by H.M. The Queen for his services to music.
Paul is a dedicated philanthropist, advocating for many causes including animal rights and environmental issues. Paul's most recent album Egypt Station was his first ever album to debut at Number One in the US album charts. He's also a very proud grandfather.
 
'I wanted to write it for grandparents everywhere – and the kids – so it gives you something to read to the grandkids at bed time.'
- Paul McCartney
 
Kathryn is a graduate of Sheridan College in Ontario, Canada. With a background in animation, she has interned with Pixar Animation Studios in addition to working on children's books.
---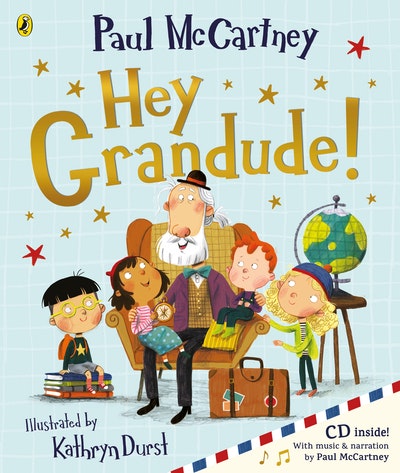 Hey Grandude!
Paul McCartney, Kathryn Durst
A magical adventure for all the family from beloved music legend Paul McCartney, taking readers around the world and back in time for bed! This is a new paperback edition with an accompanying CD, featuring narration, instrumental music, and sound effects - all performed by the author himself.
Buy now
Buy now
---