At-home pampering tips from French beauty expert Clemence von Mueffling.
Although there are other advanced treatments which utilize technology, electricity, and machines to bring the skin back to life, Isabelle Bellis [a French-born, New York–based holistic facialist], like Nicole [Desnoë – a French facialist], is a staunch advocate of manual facial massage. She considers it the most effective, efficient, and safe method to achieve natural, balanced, and healthy skin.  
If you can't book an appointment with a facialist, fear not. A very easy way to create a few special moments in your beauty routine is to add a few minutes of facial massage. Sometimes I do this on weekends as I can more easily carve a few minutes for myself in the morning; otherwise I do it in the evening after cleansing my face. Whether in my bathroom or in bed--if I'm watching a little TV to unwind before bedtime, for example-- I try to do my massages regularly to get good results.
Choose one of your moisturizers that has a smooth texture, as this will facilitate the massage and allow your fingers to slide easily. Avoid any creams that have a sticky texture, or that could start to peel while you massage. Usually a hazelnut-size amount of a cream or oil is enough for the face, and another one should be used for the neck and décolleté.

The French Facial Massage
1. Massage the Eye Area
You need a very small amount of cream to massage the eye contour. On the tip of your index or middle finger place a dot of cream and pat it under both eyes. Apply a light pressure along the bone of your eye socket. For more mature skin use one index finger to hold skin taut while the other the other finger applies the eye cream.

Alternatively place the tip of your fingers under your eyes and apply a light pressure as they move up towards the outer corner of your eyes. Then repeat this motion from the bridge of your nose along the brows to the outer corners of your eyes.
Next pinch along your brows towards your temples.
 
2. Massage the Frown Lines, Between Your Eyes
Use both index fingers to create a knitting-like motion or zigzag between your brows. You can do that for two or three minutes a day.

3. Massage the Lips 
Use the same small amount of cream as you did for the eye massage. With two fingers hold the left side of your upper lip taut while your right finger glides above the upper lip. Repeat this exercise on the other side of the mouth. 
Complete the massage beneath the lower lip. This will help prevent the little wrinkles above the lip.

4. Drainage (helps to remove fluid and congestion from your skin)
Place your thumbs under your chin, then use your index fingers as pliers as you pinch along your jawline up to your ears. Repeat five times.
5. Massage your neck and décolleté
Lightly pinch the skin beneath your chin where the neck meets the jaw. Practice an upward movement towards the ears for a lifting effect.
---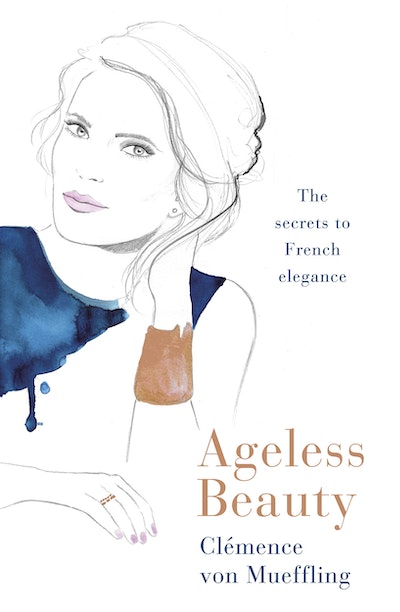 The definitive beauty book for women of all ages by three generations of French beauty editors.
Buy now
Buy now
---