The highly-anticipated return of the Miss Peregrine series needs to be celebrated, and what better way to celebrate than by hosting your own Peculiar Halloween Party for your chance to WIN.
To get into the mood this Halloween, we have created a series of peculiar assets for you to download and host your own Peculiar Party this Halloween. Including creepy posters, bunting, weird vintage polaroids and a custom invite, we have your Halloween covered.  
Ideas and suggestions on how to use your Peculiar Party assets:
Use red wool / twine to string up and connect designs – lead people around the room by pinning the twine to posters, clues, creepy messages and other Halloween installations
Use standard brown twine and small pegs to create your bunting. String the twine across the room, print off the bunting images, cut them out and hang them from the twine using small wooden pegs.
If you have small fairy lights hang these around the room, along the twine and position candles for atmospheric lighting
Print off the polaroid images and place them around the room. Hang them from the twine or stick them to card and use them as coasters.
Print off the 'polaroid frame', stick to cardboard and cut out the centre. Use this frame to create your own Peculiar polaroid's
Host a party to WIN!*
Remember to upload your photos to your Instagram page and tag us @penguinteenaus using #staypeculiar showing us how you used the Peculiar Party assets (feel free to add your own) and the most creative use will win a signed hardback edition of A Map of Days, a copy of Miss Peregrine's Home for Peculiar Children, Hollow City and Library of Souls PLUS an Instax Mini 9 Instant Camera Artist Bundle.
You have until 9 November to enter.


peculiar party downloads
Download your very own A Map Of Days poster here.
Or creep it up a little more by downloading this version here.
Click here for your Halloween party invititations.
No party is complete without some bunting.
Click here for some Peculiar Polaroids.
To get yourself in the mood, read an exclusive extract here!
*Terms and conditions: Entries close on 09/11/2018. Open to Australian residents only and limited to one entry per person. Winning entries will be chosen based on originality and creativity, and will be notified via direct message on Instagram. Penguin Random House Australia is running this promotion without any sponsorship, endorsement or association with Instagram.
---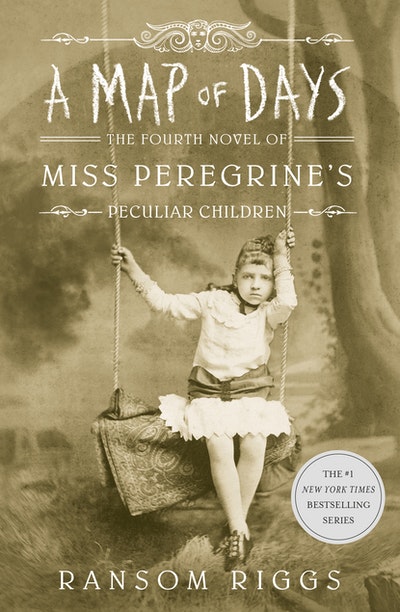 The long-awaited novel from Ransom Riggs, set in the world of Miss Peregrine's Peculiar Children
Buy now
Buy now
---