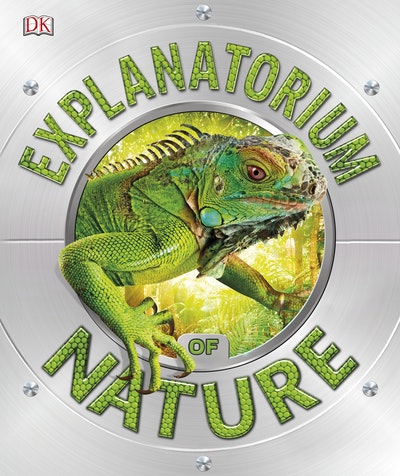 Published:

30 October 2017

ISBN:

9780241286845

Imprint:

Dorling Kindersley

Format:

Hardback

Pages:

360

RRP:

$45.00
Explanatorium of Nature
---
---
Nature as you've never seen it before.
Jaw-dropping, up-close photography shows the natural world and animals as you've never seen it before.
From fruit to flowers, from shells to sharks, from ants to elephants, this extraordinary new encyclopedia will keep animal and nature enthusiasts aged 9 and over, utterly absorbed by amazing, close-up images.
Explanatorium of Nature is the perfect way to find out how everything in nature works and why fungi, plants, animals, arthropods, fish, mammals, reptiles, amphibians and ecosystems exist and what they mean for our world. Discover how spiders spin webs, how flying works, how snakes kill, and , much more.
Children will spend hours poring over the incredible details in nature, from the spines on a stinging nettle and lichen growing on a tree to the suckers on an iguana's feet. Using never-before-seen cross sections, macro, SEM, infrared and ultraviolet close-up pictures, this is your chance to truly get up close with our natural world.
For ages 8+
Published:

30 October 2017

ISBN:

9780241286845

Imprint:

Dorling Kindersley

Format:

Hardback

Pages:

360

RRP:

$45.00
Praise for Explanatorium of Nature
The front cover of the book drew me in the first time I saw it, its beauty isn't just in its shiny cover though, the pages within are captivating and the information will keep you immersed for hours.

Library Geek, Little Big Reads
Truly brilliant! A beautifully presented hard cover book that will stand the test of time!

Melissa Puli, Two Little Humans and Me
...a fantastic book that explains everything from how animal eggs develop and hatch, to how snakes eat, how ducks swim, and how chameleons change colour.

Michelle, In The Good Books Blog
This book is aimed at upper primary or for strong readers as there is a lot of content included which can overwhelm those who are still at the beginning stages of independent reading. I however could see it in any house being used as a read aloud as well as s reference book and simply as a beautiful book to flip through with inquisitive minds. Books have no set boundaries. It is always a personal judgement call. Age and gender do not relate to reading ability, interest or maturity.

The Little Book Emporium
Aside from the fantastic photography which I believe will appeal to readers young and old, I recommend this book because of the focus on how things in the natural world actually work. Encyclopaedic volumes can be fascinating, but sometimes their breadth is almost overwhelming. Parents with youngsters who want to know "How?" and "Why" will love the way Explanatorium of Nature examines topics like types of bird feet, how bats work, how fish reproduce, how spider silk works.

Susan Stephenson, The Book Chook
Article
Natural marvels explained
From colour-changing chameleons to dangling bats and soaring birds, Explanatorium of Nature explains it all.