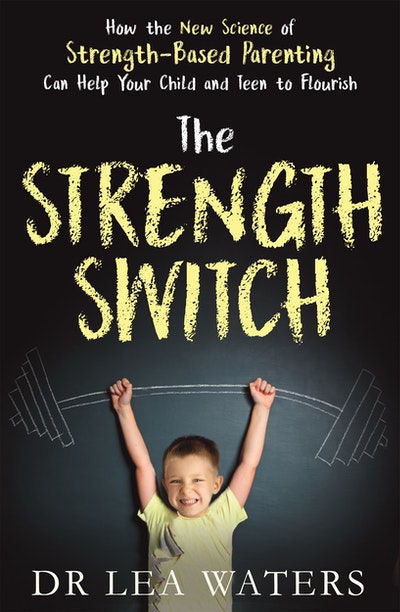 Published:

29 May 2017

ISBN:

9781925324426

Imprint:

Ebury Australia

Format:

Trade Paperback

Pages:

352

RRP:

$34.99
The Strength Switch
How the New Science of Strength-Based Parenting Helps Your Child and Teen to Flourish
---
---
---
Unlock your children's potential by helping them build their strengths.
This game-changing book reveals the extraordinary results of focusing on our children's strengths rather than always trying to correct their weaknesses. By showing us how to throw the 'strength switch', Dr Lea Waters demonstrates how we can help our children build resilience, optimism and achievement.
As a strength-based scientist for more than 20 years, Waters has seen how this approach enhances self-esteem and energy in both children and teenagers – and how parents find it an exciting and rewarding way to raise them. With many suggestions for specific techniques to interact with your children, Waters demonstrates how to discover their strengths and talents, use positive emotions as a resource, build strong brains, and even how to deal with problem behaviour and talk about difficult situations and emotions. The Strength Switch will show parents that a small shift can yield enormous results.
"Practical tips for parents from the wise and wonderful Lea Waters! So many parents, including me, struggle to translate scientific research into real-world strategies. This terrific book not only helps us understand ourselves and our children better but also makes that understanding actionable!" - Angela Duckworth, PhD, New York Times bestselling author of Grit.
Published:

29 May 2017

ISBN:

9781925324426

Imprint:

Ebury Australia

Format:

Trade Paperback

Pages:

352

RRP:

$34.99
Praise for The Strength Switch
As parents, we often obsess about fixing our children's weaknesses and neglect the importance of developing their strengths. This book is full of concrete ideas on how to change that.

Adam Grant, PhD, New York Times bestselling author of Originals and Give and Take
The Strength Switch gives parents hope that they can build their children's creativity. By sharing parts of her own story of overcoming hardship, and presenting the latest science of positive psychology, Dr. Waters not only inspires parents to bring out the best in their children, but she inspires us all to be the best version of ourselves. A wise and warm book!

Scott Barry Kaufman, PhD, co-author of Wired to Create: Unraveling the Mysteries of the Creative Mind
Lea Waters points to a needed shift in the way we are parenting our children and teenagers. The Strength Switch rejects the current fad that drowns children in self-esteem and replaces it with research-based practices to help parents identify and develop their children's best qualities. Inspiring and timely.

Robert Biswas-Diener, PhD, author of The Upside of Your Dark Side
This book will help you do something groundbreaking for your children – shift your view to see their best and help them develop their unique strengths. Follow the wisdom here and you will bring deep, lasting benefit to not only your child but yourself. Thanks to Dr. Lea Waters, strengths-based parenting has arrived!

Ryan M. Niemiec, Psy.D., author of Character Strengths Interventions
Lea Waters' expertise, hope, and heart shine through the pages of The Strength Switch. She deftly draws on the science of positive emotions to help readers appreciate the vital role positivity plays in moving through hard times. This book will be a game-changer for unlocking your child's potential.

Barbara L. Fredrickson, PhD, author of Positivity and Love 2.0