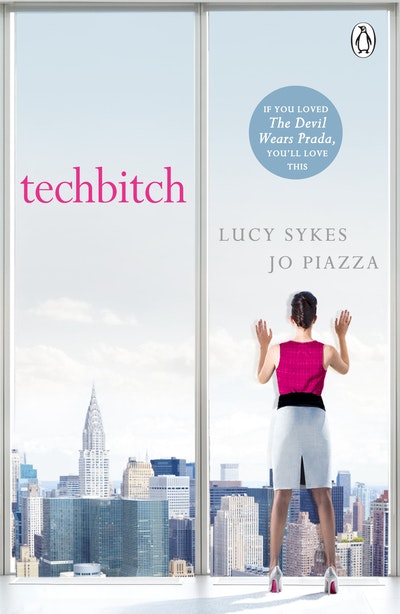 Published:

28 March 2016

ISBN:

9781405918695

Imprint:

Penguin eBooks

Format:

EBook

Pages:

448
Techbitch
---
---
---
With humour, savvy and grace, Techbitch is The Devil Wears Prada for the digital age
When Imogen Tate returns from a sabbatical to her post as editor-in-chief of Glossy magazine, she finds her former assistant Eve Morton sitting comfortably in her very own office. Fresh out of Harvard Business School, Eve plans to overhaul Glossy completely, with herself at the helm.
Imogen may have Calvin Klein and Diane Von Furstenberg on speed dial, but she can't tell a Tweet from an Instagram snap and isn't sure how an app differs from a website. Imogen's livelihood is in danger and if she wants to keep her job, she has to get on the tech bandwagon, fast.
Published:

28 March 2016

ISBN:

9781405918695

Imprint:

Penguin eBooks

Format:

EBook

Pages:

448
The Devil Wears Prada does digital

Glamour
Sassy, smart and fun ****

Heat Magazine
The Devil Wears Prada for the digital age

Good Housekeeping
One our reading list right now is this Devil Wears Prada-esque magazine-set tale

Cosmopolitan
Hilariously witty, like a modern day The Devil Wears Prada

Essentials
The theatre of war is cutting-edge online versus traditional magazines, a sort of 'The Devil Uses Instagram' . . . a great read, packed with brilliant, glam detail and a satirical sideswipes at nerd culture

Daily Mail
A winning romp of a tale.... This breezy, behind-the-scenes tale offers a fresh, modern take on a classic tale of rivalry

Publishers Weekly
While Imogen may know her DVF from YSL she knows nothing at all about Instagram, HTML and Tumblr . . . but she soon will. Fashion just got bitchy!

This Summer's Best Books in Sun on Sunday
Techbitch is relatable to all women, it shows the depths of ferocity of which some women are willing to go in order to succeed, whilst teaching the lesson that playing nice and keeping cool also has its benefits and rewards. I loved the style of writing and felt that all the storylines progressed at the right pace and the outcomes were satisfying, I almost punched my fist in the air in style of Judd Nelson at the end of Breakfast Club when I finished the book. Humorous, touching and about as addictive as shoe shopping, Techbitch is one book that you should stick on your to read list

Belle About Town
This describes the frantic process of taking a Vogue-like magazine from paper to app. . . When Imogen left, she was Queen. When she comes back, she's lost her front-row Fashion week seat to a-What? What are these?-fashion bloggers! Naturally, Imogen regrows her claws. And the book does its share of meowing about the entitled young women who now flood the magazine offices, living large because they still live rent-free at their parents' apartments

The New York Times
The ONLY Beach Read You Should Be Seen With This Summer: a juicier version of The Devil Wears Prada meets Silicon Valley. Trust us-you won't be able to put it down

Town & Country
Jo Piazza and Lucy Sykes' compulsively readable corner office drama, [is] summer's juiciest beach read

Elle.com
It's The Devil Wears Prada meets All About Eve-complete with a former boss who's a warmer, fuzzier version of Prada's Miranda Priestly. Fast-paced and filled with sartorial wisdom, this debut from journalists Sykes and Piazza is a fun, often funny take on life in the sharp-elbowed world of fashion magazines

Book of the Week, People
Not since The Devil Wears Prada has the fashion world been so abuzz about a novel! [Tecbitch] counts Zac Posen among its many fans, as insiders play who's who with its thinly veiled characters

Best Beach Read, Ok!
Humour with style and heart . . . You'll have a new appreciation for your office drama after meeting these nightmare colleagues

Best Books of Summer, Glamour
This is what it's really like working at a glossy, New York fashion magazine. Makes The Devil Wears Prada look like My Little Pony

Toby Young, bestselling author of How to Lose Friends and Alienate People
Funny, fashionable, fabulous - my beach read pick for the summer!

Jane Green
This Years The Devil Wears Prada

Vanity Fair