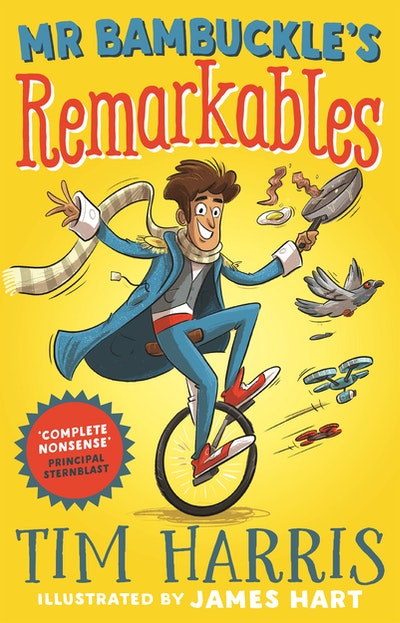 Published:

2 March 2021

ISBN:

9781761042652

Imprint:

Puffin

Format:

Paperback

Pages:

240

RRP:

$14.99
Mr Bambuckle's Remarkables
---
---
---
When Mr Bambuckle arrives, laughs, thrills, silliness and imagination are guaranteed to follow!
He's the first teacher to cook us breakfast.
Is his spark-maker beetle really that dangerous?
I heard he drank yak's milk in Mongolia.
He's the only person who isn't afraid of Canteen Carol.
My mum says he used to be in the circus.
The class in room 12B has a new teacher, and nothing is ever going to be the same . . .
Published:

2 March 2021

ISBN:

9781761042652

Imprint:

Puffin

Format:

Paperback

Pages:

240

RRP:

$14.99
Other books in the series
Praise for Mr Bambuckle's Remarkables
Mr Bambuckle is an extraordinary teacher and this is an extraordinary book. It's crack-up, laugh-aloud funny, with mini-stories to inspire and lift the self-esteem of its readers. Every kid needs to meet a Mr Bambuckle. *****

Sandy Fussell, Sunday Telegraph
This is a delightfully funny book full of weird and wonderful characters that kids will love. Lessons about app-making and drone-building help put a modern spin on the 'Magic School Bus'-esque formula, and the off-the-wall humour is bound to appeal to readers aged eight to 11.

Holly Harper, Junior Books+Publishing
An absolute delight to read aloud to Middle Primary classes. There's a cast of fun characters, unusual and exciting situations, different approaches to presenting the narrative all wrapped up with a teacher who shows empathy, understanding and acknowledges individuality.

Rhyllis Bignell, ReadPlus
Through this clever mix of short, pacey chapters, student retellings, fun class activities and hilarious student notes, Tim Harris creates an enthralling, often poignant, laugh-out-loud story. James Hart's wickedly expressive cartoon illustrations are the perfect accompaniment, adding yet another delightfully funny layer to this already highly engaging narrative.

Lisa Hoad, Reading Time
There's so much humour in Mr Bambuckle's Remarkables! Kids will feel immediately comfortable in the school setting, and giggle over recognisable characters like a cranky canteen lady or smart-alec student.

thebookchook.com
This book made me laugh lots and I wanted to keep reading it and not put it down. Tim Harris has summed up a class perfectly and this really is a great kids' book. I'm not a massive reader but I like a good book and this is definitely one. I liked it so much, I got it for my mate for his 10th birthday.

Harry (Year 5 student), Adelaide Advertiser
Every class should have a Mr Bambuckle.

Sharon Szczecinski, West Australian
The funniest and also the most interesting and exciting book I've ever read! . . . Mr Bambuckle teaches like no other teacher and, in my opinion, even better than every real teacher in the world. 10/10

Tyler Clynshaw-Park, age 10, Sunday Telegraph
The very best school based stories resonate with children and teachers alike and the Mr Bambuckle's Remarkables series by Tim Harris (illustrated by James Hart) nail the genre. These books have been amongst the favourites with students from Year Four – Six this year ... From my perspective, they are a clever mix of old and new; the tried and true setting of a school, with a side serve of modern teaching techniques (app building and drone making) and a strong message to walk your own path and embrace difference and quirkiness.

Megan Daley, childrensbooksdaily.com
CBCA Book of the Year Awards
Notable Book • 2018 • Younger Readers
YABBA Children's Choice Awards
Honour Award • 2023 • Fiction for Older Readers Honour Book
Reading and Enjoying Australian Literature (R.E.A.L.)
Shortlisted • 2023 • Fiction for Older Readers
Article
Teachers' notes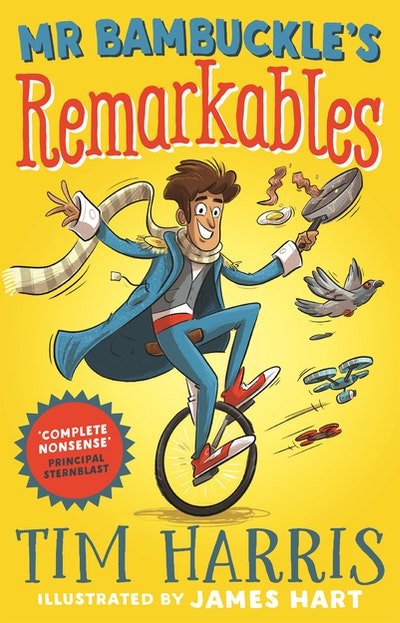 Article